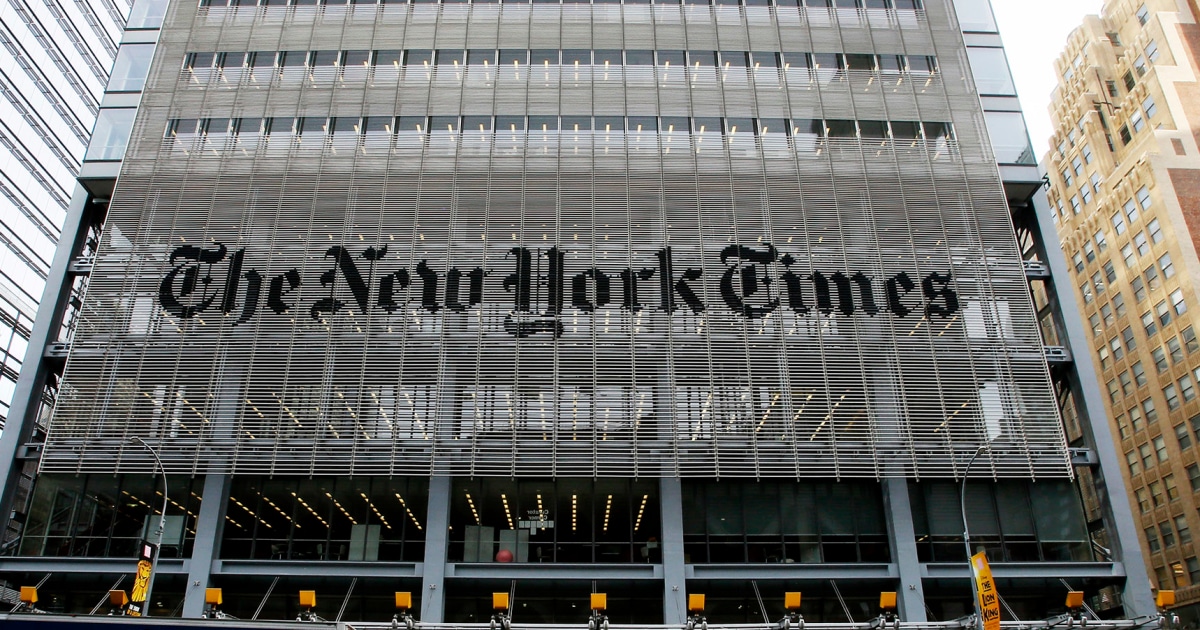 Hundreds of New York Times factors and advocacy groups sent out 2 collaborated open letters Wednesday implicating the paper of record of releasing prejudiced posts about trans individuals.
One of the letters, signed by more than 370 existing and previous Times factors, numerous of them trans and nonbinary, stated that "the Times has in current years dealt with gender variety with a strangely familiar mix of pseudoscience and euphemistic, charged language, while releasing reporting on trans kids that leaves out pertinent info about its sources."
The letter, dealt with to Philip B. Corbett, the paper's associate handling editor for requirements, consisted of the signatures of popular public figures and authors like Cynthia Nixon, Chelsea Manning, Roxane Gay, Jia Tolentino and Sarah Schulman.
In a 2nd letter, more than 100 LGBTQ and civil liberties groups, consisting of GLAAD, the Human Rights Campaign and PFLAG, stated that they support the letter from factors which the Times is platforming "fringe theories" and "hazardous mistakes." Amongst the popular supporters and public figures signing it were "Jeopardy!" champ Amy Schneider, TikTok star Dylan Mulvaney, comic Hannah Gadsby, "Queer Eye" star Jonathan Van Ness and stars Gabrielle Union-Wade and Tommy Dorfman. They contacted the Times to take a variety of actions to alter its protection of transgender individuals.
A signboard truck likewise drove around the Times' workplace in Manhattan with the union's messages, consisting of: "Dear New York Times: Stop questioning trans individuals's right to exist & & gain access to healthcare."
Charlie Stadtlander, the Times' director of external interactions, verified the paper got both of the letters, which were provided by GLAAD.
" We comprehend how GLAAD and the co-signers of the letter see our protection," Stadtlander stated in an e-mail. "But at the very same time, we acknowledge that GLAAD's advocacy objective and The Times's journalistic objective are various. As a wire service, we pursue independent reporting on transgender problems that consist of profiling groundbreakers in the motion, obstacles and bias dealt with by the neighborhood, and how society is coming to grips with arguments about care."
Stadtlander included that the newspaper article the letters slammed "reported deeply and empathetically on problems of care and wellness for trans teenagers and grownups."
" Our journalism aims to check out, question and show the experiences, concepts and disputes in society– to assist readers comprehend them," Stadtlander stated. "Our reporting did precisely that and we're happy of it."
The 2 letters concerned fulfillment after a group of 9 authors joined this year to determine how to press back versus what they felt was the Times' significantly prejudiced protection of trans individuals, stated Jo Livingstone, a factor to the Times and its publication, who was among the co-authors of the factor letter.
" As in 2015 waned and this year started, I believe that the citation of Times reporting in state legislatures was beginning to cohere into something that was starting to look actually frightening to me," Livingstone stated. "The New York Times appeared to be functioning as this driver for accelerating outrage cycles and shuffling those hot-button concerns into policy propositions."
According to the factor letter, Times short articles were pointed out in state legislatures throughout arguments of expenses that would prohibit gender-affirming take care of youths and utilized in assistance of legal fights over such costs. an amicus quick submitted by Arkansas Attorney General Leslie Rutledge in assistance of an Alabama law that would charge medical professionals who supply gender-affirming care to minors with a felony pointed out 3 Times short articles about transgender youths and LGBTQ individuals.
The letter had 180 signatures from existing and previous factors when it was very first released Wednesday early morning; Livingstone stated it had more than 370 from Times factors and 7,400 from fans by Wednesday afternoon.
In the letter, factors stated the Times' protection of transgender individuals, especially trans youths, has actually broken the paper's editorial standards.
The letter provided a couple of particular examples of protection that the signatories declare programs favoritism to anti-trans perspectives. It stated a June short article by Emily Bazelon, "The Battle Over Gender Therapy," stopped working to supply essential context about the sources it estimated; "uncritically utilized the term 'client no'" to describe a kid who was among the very first in the Netherlands to get gender- verifying care, which "damns transness as an illness to be feared"; and misrepresented the work of several professionals it priced quote.
The factor letter compares the Times' contemporary protection of transgender individuals to its previous protection of gay individuals and the AIDS crisis. It indicates a 1963 Times post entitled " Growth of Overt Homosexuality in the City Provokes Wide Concern," which prices quote several professionals who explain gay individuals as having a health problem or an illness that can be treated.
Livingstone, who utilizes they/them pronouns, stated they and their co-authors selected to object the Times' protection in an open letter due to the fact that a letter is how the paper typically gets and accepts problems.
" It's so simple for an editor to cross out someone they interpret as partial, stating, 'This individual is basically similar to a dissatisfied source or an activist,' which's not the sort of individual The New York Times listens to," Livingstone stated. "This is how they requested for their problems to be provided, therefore we've followed their instructions."
Livingstone stated the authors of the factor letter collaborated with GLAAD to launch the letters at the very same time, however they worried the 2 are deliberately various. Especially, the letter from GLAAD and other advocacy groups consists of a set of needs.
It asked the paper to "stop printing prejudiced anti-trans stories," to hold a conference with trans leaders and trans youths within the next 2 months and to work with a minimum of 4 trans individuals– 2 for the viewpoint area and 2 for the news area– within 3 months.
" For those people who really cherished the Times protection for a lot of years, it is dreadful to see how the news and viewpoint pages are now loaded with misdirected, unreliable, and disingenuous 'both sides' fearmongering and bad faith 'simply asking concerns' protection," states the letter arranged by GLAAD.
Editor's note: The author of this post belongs to the Trans Journalists Association, among the supporting signatories on the open letter penned by previous and existing Times factors.