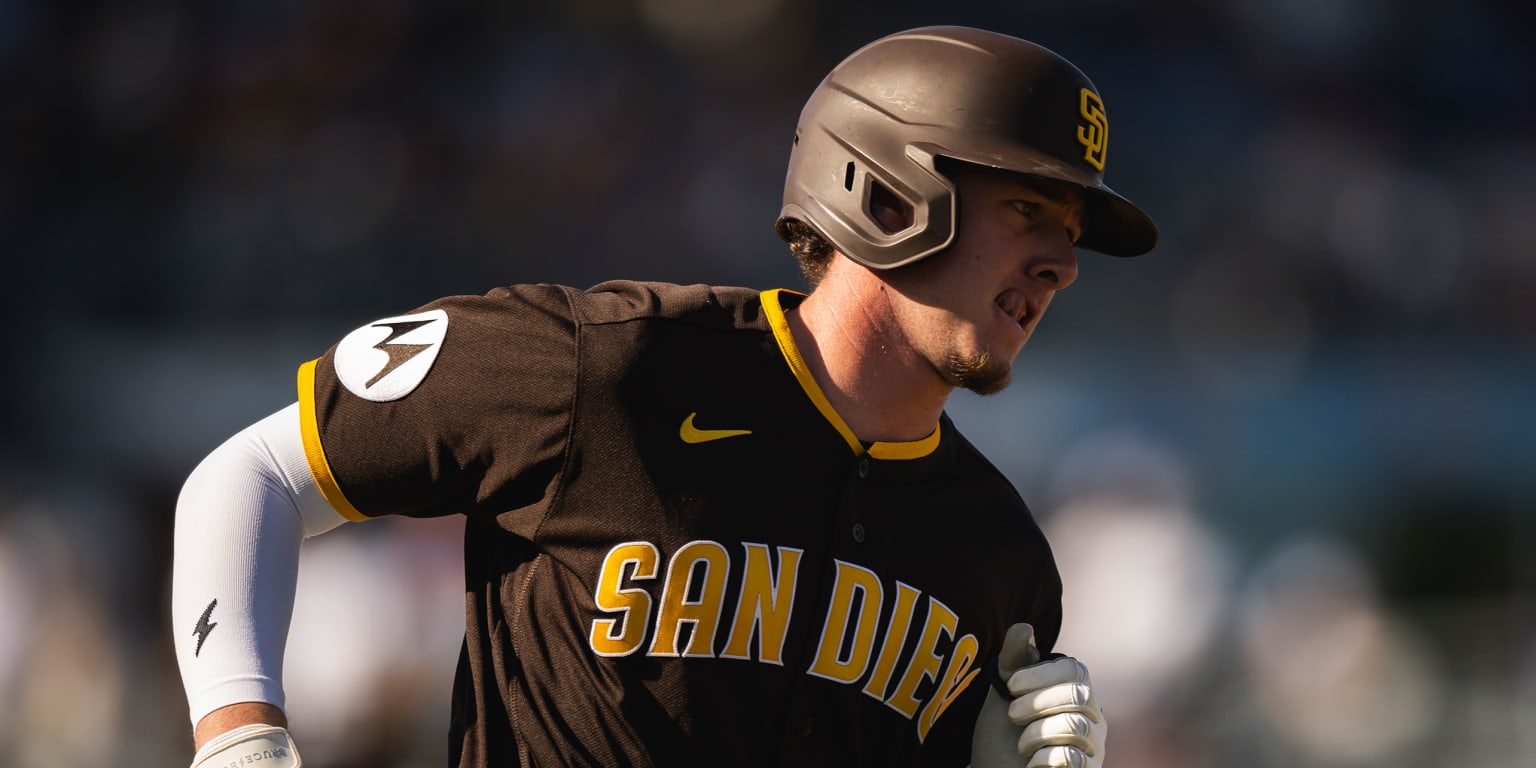 n","providerName":"Twitter","providerUrl":"https://twitter.com","type":"rich","width": 550},"type":"oembed"},{"__typename":"Markdown","content":"A few other observations from the Padres' Cactus League opener (played, with the pitch timer, in a crisp two hours, 29 minutes):nn• Right-hander Nick Martinez struck out four over two scoreless innings as he begins to build toward a starting role for Team USA at the World Baseball Classic.nn"We were attacking the zone with all pitches," Martinez said. "It felt good."nnMartinez's first outing at the WBC is slated for March 12 against Team Mexico, Melvin revealed. That should give Martinez two more spring outings with the Padres before he joins Team USA.","type":"markdown"},{"__typename":"Video","contentDate":"2023-02-24T21: 23: 38.032Z","description":"Nick Martinez strikes out four Mariners in two innings in his first Spring Training game of the season","displayAsVideoGif":false,"duration":"00: 00: 46″,"mp4AvcPlayback":"https://mlb-cuts-diamond.mlb.com/FORGE/2023/2023-02/24/da54a01e-c5453682-ef73143c-csvm-diamondx64-asset_1280x720_59_4000K.mp4″,"slug":"nick-martinez-s-spring-debut","tags":[{"__typename":"Tag","slug":"gamepk-719395″,"title":"2023/02/24 sea@sd"},{"__typename":"Tag","slug":"teamid-135″,"title":"San Diego Padres"},{"__typename":"Tag","slug":"playerid-607259″,"title":"Nick Martinez"},{"__typename":"Tag","slug":"highlight","title":"highlight"},{"__typename":"Tag","slug":"in-game-highlight","title":"in-game highlight"},{"__typename":"Tag","slug":"game-action-tracking","title":"game action tracking"},{"__typename":"Tag","slug":"pitching","title":"pitching"},{"__typename":"Tag","slug":"highlight-reel-starting-pitching","title":"highlight reel starting pitching"},{"__typename":"Tag","slug":"spring-training","title":"Spring Training"},{"__typename":"Tag","slug":"cactus-league","title":"Cactus League"}],"templateUrl":"https://img.mlbstatic.com/mlb-images/image/upload/{formatInstructions}/mlb/pheazvvsspmedixpschm","title":"Nick Martinez's spring debut ","type":"video","url":"/video/nick-martinez-s-spring-debut"},{"__typename":"Markdown","content":"• Spring Training: the perfect time for a bit of trial and error, right?nnFriday marked the first game in which left-hander Ryan Weathers had used a PitchCom device on his belt. The device is designed to allow Weathers to press a button that calls a pitch for his catcher. In that sense, it did its job — though Weathers might need to rethink where he places the device on his belt.nnWeathers threw 35 pitches, and he estimated that on about 30 of them, his glove arm nicked the device. That meant …nn"As I was letting go of the ball, I could hear in my head the opposite pitch of what I was throwing," Weathers said.nnEven pitches that aren't in his arsenal: "One of them, I threw a fastball up, and it said, 'Screwball.' I'm not \[Brent\] Honeywell, so I don't throw a screwball."nnDespite the snafu, Weathers was mostly sharp, striking out three over two innings, though he allowed a trio of unearned runs.nn• Those unearned runs scored after Juan Soto dropped a relatively routine fly ball in shallow left field. Sure, it's only one spring blunder in an exhibition game. But it's also a worthwhile reminder that Soto will be making the transition from right to left field this spring, and it might take him some time to acclimate.","type":"markdown"},{"__typename":"Video","contentDate":"2023-02-24T21: 42: 32.222Z","description":"Nick Martinez talks about his first start of Spring Training, the World Baseball Classic and more","displayAsVideoGif":false,"duration":"00: 01: 59″,"mp4AvcPlayback":"https://mlb-cuts-diamond.mlb.com/FORGE/2023/2023-02/24/8930ed57-2124375b-3d9caf36-csvm-diamondx64-asset_1280x720_59_4000K.mp4″,"slug":"martinez-talks-1st-camp-start","tags":[{"__typename":"Tag","slug":"gamepk-719395″,"title":"2023/02/24 sea@sd"},{"__typename":"Tag","slug":"teamid-135″,"title":"San Diego Padres"},{"__typename":"Tag","slug":"playerid-607259″,"title":"Nick Martinez"},{"__typename":"Tag","slug":"interview","title":"interview"},{"__typename":"Tag","slug":"spring-training","title":"Spring Training"},{"__typename":"Tag","slug":"cactus-league","title":"Cactus League"},{"__typename":"Tag","slug":"world-baseball-classic","title":"World Baseball Classic"}],"templateUrl":"https://img.mlbstatic.com/mlb-images/image/upload/{formatInstructions}/mlb/h65l5p8ouixgbqi3fe7r","title":"Martinez talks 1st start","type":"video","url":"/video/martinez-talks-1st-camp-start"}],"storyType":"news","subHeadline":"Merrill, 19, continues to impress, collects 3 hits in spring opener","summary":"PEORIA, Ariz. — Jackson Merrill's first big league camp is off to quite a start.nThe Padres' top prospect in the MLB Pipeline rankings will make an out at some point. (Probably.) But in the team's Cactus League opener against Seattle on Friday afternoon, Merrill went 3-for-3 while showing off","tagline({"stripMarkdown":false})":null,"tags":[{"__typename":"Tag","data":{"__typename":"UnsupportedTagType"},"externalSourceName":null,"slug":"storytype-article","title":"Article","type":"article"},{"__typename":"Tag","data":{"__typename":"UnsupportedTagType"},"externalSourceName":"customentity.contributor","slug":"aj-cassavell","title":"AJ Cassavell","type":"contributor"},{"__typename":"Tag","data":{"__ref":"Team: 135″},"externalSourceName":"team","slug":"teamid-135″,"title":"San Diego Padres","type":"team"},{"__typename":"Tag","data":{"__ref":"Player: 701538″},"externalSourceName":"player","slug":"playerid-701538″,"title":"Jackson Merrill","type":"player"},{"__typename":"Tag","data":{"__typename":"UnsupportedTagType"},"externalSourceName":"game","slug":"gamepk-719395″,"title":"2023/02/24 sea@sd","type":"unsupported"},{"__typename":"Tag","data":{"__typename":"UnsupportedTagType"},"externalSourceName":"taxonomy","slug":"mlb-top-prospects","title":"MLB Top Prospects","type":"taxonomy"},{"__typename":"Tag","data":{"__typename":"UnsupportedTagType"},"externalSourceName":"taxonomy","slug":"spring-training","title":"Spring Training","type":"taxonomy"},{"__typename":"Tag","data":{"__typename":"UnsupportedTagType"},"externalSourceName":"taxonomy","slug":"apple-news","title":"Apple News","type":"taxonomy"}],"templateUrl":"https://img.mlbstatic.com/mlb-images/image/upload/{formatInstructions}/mlb/jpwrlnmnoaog4pbta6tf","title":"Jackson Merrill raps 3 hits in Cactus League opener"}}},"appConfig":{"graphqlServiceUrl":"https://content-service.mlb.com"},"appState":{"adDomain":"mlb.mlb","appId":"","basePath":"news","club":"mlb","contentfulProperties":{"__typename":"CF_WebProperties","organismHeadlineFont":null,"urlLogo":null,"favicon":null,"headerMastheadTagline":null,"headerPrimaryLogo":null,"headerMastheadTaglineContainerWidth":"512px","headerMastheadTaglineContainerHeight":"56px","organismLogoVersion":"caplogo","organismLogoStyle":"light","headerMastheadLogoVersion":"cap","headerMastheadLogoStyle":"dark","footerLogoVersion":"primary","footerLogoStyle":"dark","headlineTextTransform":"none","headlineFontFamily":null,"headlineFontFamilySizeMultiplier":1,"articleVideoAutoPlay":true,"articleVideoAutoPlaySound":false},"contentfulPalette":{"__typename":"CF_Palette","headerNavigationBackgroundColor":"#041E42″,"headerNavigationTextColor":"#ffffff","headerNavigationTextColorHover":"#ffffff","headerNavigationBorderColor":"#057AFF","headerMastheadBackgroundColor":"#002D72″,"buttonSpotlightBackgroundColor":"#333333″,"buttonSpotlightBackgroundColorHover":"lighten","buttonSpotlightTextColor":"#ffffff","buttonSpotlightTextColorHover":"#ffffff","footerBackgroundColor":"#333″,"footerBorderColor":"#f3f3f3″,"footerLinkColorActive":"#fff","footerLinkColor":"#ffffff","footerLinkColorHover":"#147CD1″,"footerTextColor":"#d2d2d2″},"contextUrlPrefix":"","env":"production","footerState":{"clubId":"mlb","deviceProperties":{},"footerData":{"instanceId":"db2f8fb2-78c8-4d3c-a328-9e91c349dfee","name":"global-footer","variables":[],"menuItems":[{"itemId":"aec375d3-3afa-4491-ab28-60b736f38982″,"text":"Terms of Use","properties":{"link":"/official-information/terms-of-use","target":"_blank"},"menuItems":[]},{"itemId":"debe8dbf-de27-4eae-b7ec-adae43fc4642″,"text":"Privacy Policy","properties":{"link":"/official-information/privacy-policy"},"menuItems":[]},{"itemId":"345a1847-cac1-43a4-91bf-70c21ecee681″,"text":"Legal Notices","properties":{"link":"/official-information/legal-notices"},"menuItems":[]},{"itemId":"34014aad-1069-4bba-b22e-4b287a4f7df1″,"text":"Contact Us","properties":{"link":"/official-information/contact"},"menuItems":[]},{"itemId":"65e06970-7f8e-4328-ad82-9d90df0f3e87″,"text":"Do not Sell or Share My Personal Data","properties":{"link":"https://privacyportal.onetrust.com/webform/53a301ae-6882-46f9-af93-24f64f792aee/3251a424-8286-4725-9313-603f12c85a49″,"target":"_blank"},"menuItems":[]},{"itemId":"dd307e97-49c6-4f80-aff3-89a59696fb80″,"text":"Official Information","properties":{},"menuItems":[{"itemId":"bdf571d3-e8bb-403b-bb5f-7f28a7127c74″,"text":"Official Info","properties":{"link":"/official-information"},"menuItems":[]},{"itemId":"ecfd4d42-aa8d-4872-80a5-869c6b493018″,"text":"About MLB","properties":{"link":"/official-information/about-mlb"},"menuItems":[]},{"itemId":"bb62de22-5c84-4cab-b9fb-5429ea9d647c","text":"Team Information","properties":{"link":"/team"},"menuItems":[]},{"itemId":"7cc37e2a-667c-4405-bd1f-87ad88bc4d9e","text":"Official Rules","properties":{"link":"https://img.mlbstatic.com/mlb-images/image/upload/mlb/hhvryxqioipb87os1puw.pdf","target":"_blank"},"menuItems":[]},{"itemId":"e658056b-608b-4eee-a04a-43772f9e6bb4″,"text":"Replay Review Regulations","properties":{"link":"/glossary/rules/replay-review"},"menuItems":[]},{"itemId":"d1ffda83-f016-4ba6-8f32-7cc7ce787a9c","text":"Umpires","properties":{"link":"/official-information/umpires"},"menuItems":[]},{"itemId":"23dde9d7-6aba-4bec-a449-b1b4d5a5767c","text":"Advertise with Us","properties":{"link":"/sponsorship"},"menuItems":[]},{"itemId":"bd193214-b4a4-4c4d-965e-1a55cdc2e0fb","text":"Press Releases","properties":{"link":"/news/topic/mlb-press-releases"},"menuItems":[]}]},{"itemId":"7a60a8fc-0c3c-4c87-b04b-2b57b6c9894c","text":"Help/Contact Us","properties":{},"menuItems":[{"itemId":"efb27376-accc-4ca4-9017-c3309ee122d3″,"text":"Accessibility Information","properties":{"link":"/official-information/accessibility"},"menuItems":[]},{"itemId":"cf3490fc-f093-4457-99a7-d2bc3f4d4cef","text":"Auctions Customer Service","properties":{"link":"http://auctions.mlb.com/iSynApp/manageUserEmail!showEmailContactUsForm.action?sid=1101001″},"menuItems":[]},{"itemId":"c6867706-11b7-4634-a78e-b5d513948f43″,"text":"Harassment Policy","properties":{"link":"/official-information/harassment-policy"},"menuItems":[]},{"itemId":"0e3932c9-beec-43f2-b712-66879a51ab63″,"text":"Help/Contact Us","properties":{"link":"/official-information/contact"},"menuItems":[]},{"itemId":"6d4ebef1-3168-4b79-a237-9f36931d3a2c","text":"MLB App FAQs","properties":{"link":"/wp-content/plugins/mlb-app/faq-apple"},"menuItems":[]},{"itemId":"4b3c6ee8-d4ae-4265-a7e7-7e5bea8cde28″,"text":"MLB.com Account Information","properties":{"link":"/official-information/faqs"},"menuItems":[]},{"itemId":"4d33a7c1-38d5-4b3b-a999-53377f55738d","text":"MLB.TV Help Center","properties":{"link":"/live-stream-games/help-center"},"menuItems":[]},{"itemId":"36f01834-7979-4a42-aa12-52439c2e320b","text":"Shop Help","properties":{"link":"https://www.mlbshop.com/customer-help-desk/hd-1″},"menuItems":[]}]},{"itemId":"6ca8b189-8c54-428f-9f79-3c357ef18469″,"text":"More MLB Sites & Affiliates","properties":{},"menuItems":[{"itemId":"becc9309-94fc-491b-ad15-45f7c17f85a9″,"text":"MLB Players Alumni Association","properties":{"link":"/mlbpaa","target":""},"menuItems":[]},{"itemId":"9ff49c09-8a0d-41e6-b8b0-14f37f8e7f52″,"text":"MLB Players Association","properties":{"link":"http://www.mlbplayers.com/"},"menuItems":[]},{"itemId":"022ec2ca-bb20-4543-9cdc-95ba3a4443ca","text":"Minor League Baseball","properties":{"link":"https://www.milb.com/"},"menuItems":[]},{"itemId":"c6f9948e-3521-4788-83ed-b568f39e86aa","text":"MLB Network","properties":{"link":"https://www.mlb.com/network"},"menuItems":[]},{"itemId":"de2ea389-0a29-4600-8048-b4261916183d","text":"Baseball Assistance Team","properties":{"link":"/baseball-assistance-team"},"menuItems":[]},{"itemId":"6a47c1d6-35aa-4028-9825-7cfc34a3ea40″,"text":"Player Resource Center","properties":{"link":"/player-resource-center"},"menuItems":[]},{"itemId":"75f0b763-612d-4557-ae38-227fb5b3b7f1″,"text":"Tickets.com","properties":{"link":"http://www.tickets.com/"},"menuItems":[]},{"itemId":"cb410dd4-4ace-4b5b-be3e-4ae6d60cd20f","text":"YES Network","properties":{"link":"https://www.yesnetwork.com/"},"menuItems":[]},{"itemId":"5c8f6196-a4d5-4ed5-b830-189580691d3e","text":"Australian Baseball League","properties":{"link":"https://theabl.com.au/"},"menuItems":[]},{"itemId":"ab6fc805-0bb7-439b-8c3c-92c61b035387″,"text":"World Baseball Classic","properties":{"link":"https://www.worldbaseballclassic.com/"},"menuItems":[]},{"itemId":"e218ed4d-89f9-4f7d-87e7-c05a3559cd74″,"text":"sabr.org","properties":{"link":"http://sabr.org/"},"menuItems":[]},{"itemId":"158a95a6-bd4f-4654-b57f-465d3c356a55″,"text":"College Baseball Hall of Fame","properties":{"link":"https://www.mlb.com/college-baseball-hall-of-fame"},"menuItems":[]},{"itemId":"2e494e91-a92e-4763-b89b-7944f37b1b3f","text":"Golden Spike Award","properties":{"link":"https://www.usabaseball.com/golden-spikes-award"},"menuItems":[]},{"itemId":"ccd9020d-c619-45d2-bc1f-ef80ae2cd651″,"text":"USA Baseball","properties":{"link":"https://www.usabaseball.com"},"menuItems":[]},{"itemId":"75512a93-d52d-4d71-a6d3-70d6b44dfa0f","text":"LasMayores.com","properties":{"link":"https://www.mlb.com/es"},"menuItems":[]},{"itemId":"3b7bbad3-1ed5-468d-8703-205519315e04″,"text":"MLBCommunity.org","properties":{"link":"/mlb-community"},"menuItems":[]},{"itemId":"f8058121-3606-4ff2-be8a-d1a3d47642db","text":"AllStarGame.com","properties":{"link":"/all-star"},"menuItems":[]},{"itemId":"a624b4e5-c8d8-44b9-9084-7522ed0cee59″,"text":"MLB.com/Kids","properties":{"link":"https://www.mlb.com/fans/kids"},"menuItems":[]},{"itemId":"43c6bc47-f7d9-445a-85a1-10b3cdc02ee0″,"text":"MLB Photostore","properties":{"link":"https://photostore.mlb.com/","visible":"false"},"menuItems":[]},{"itemId":"c574a4a2-45ec-47fe-8ca3-b5b99d1cb443″,"text":"PlayBall.org","properties":{"link":"https://www.playball.org"},"menuItems":[]},{"itemId":"517cf98f-063c-486a-a725-5380e1ae063f","text":"MLB Educators","properties":{"link":"/mlb-educators"},"menuItems":[]}]},{"itemId":"e3a86593-6da0-4d00-a512-0b8c78c9b8a5″,"text":"Careers","properties":{"link":""},"menuItems":[{"itemId":"35caab61-51c7-4b17-a9b8-e9ecd201058a","text":"Careers Home","properties":{"link":"/careers/home"},"menuItems":[]}]}]},"headerData":{"instanceId":"fbde1dcd-c837-4740-991c-1087d1db26d1″,"name":"global-nav","variables":[],"menuItems":[{"itemId":"668844d6-282b-4abb-a162-f6ffff905b11″,"text":"MLB.TV","properties":{"customProperties":"align:right;","visible":"true","link":"https://www.mlb.com/tv?&affiliateId=mlbMENUtv"},"menuItems":[{"itemId":"43795314-dff1-48d7-8e49-a3d7acab203d","text":"Buy MLB.TV","properties":{"link":"/live-stream-games/subscribe?&affiliateId=mlbMENUtv","visible":"true"},"menuItems":[]},{"itemId":"5b4ab21b-1d63-4eff-85f9-51075da5915a","text":"Buy At Bat","properties":{"link":"/live-stream-games/subscribe/at-bat?&affiliateId=mlbMENUtv","visible":"true"},"menuItems":[]},{"itemId":"ef0347a1-642b-4d79-b078-7a19173362e1″,"text":"MLB.TV ST Schedule","properties":{"link":"https://www.mlb.com/live-stream-games/spring-training?&affiliateId=mlbMENUtv"},"menuItems":[]},{"itemId":"5e33e51f-2f87-4d40-bf50-cc1704688344″,"text":"Watch & Listen","properties":{"link":"/live-stream-games?&affiliateID=mlbMENUtv","visible":"true"},"menuItems":[]},{"itemId":"c04b122c-66ec-4bfa-9e26-2e7f75bc915c","text":"Help Center","properties":{"link":"/live-stream-games/help-center?&affiliateID=mlbMENUtv","visible":"true"},"menuItems":[]}]},{"itemId":"tickets","text":"Tickets","properties":{"link":"/tickets","customProperties":"align:right;"},"menuItems":[{"itemId":"b2956670-29de-4eb5-94db-7cbeecfb987f","text":"All-Star Tickets","properties":{"link":"https://www.mlb.com/all-star/tickets?top-nav-dropdown","visible":"false"},"menuItems":[]},{"itemId":"020f5910-a69a-443a-b5a3-37b7664d8a4f","text":"Spring Training","properties":{"link":"/tickets/spring-training","visible":"true","customProperties":"expires: 1680051600;"},"menuItems":[]},{"itemId":"524505d6-bf61-4819-8197-f62bc71fd518″,"text":"Postseason Tickets","properties":{"link":"/tickets/postseason","visible":"false"},"menuItems":[]},{"itemId":"005453a9-72bb-49f7-9dd7-f4f6d70c6a6a","text":"SeatGeek","properties":{"link":"https://seatgeek.com/mlb-tickets?aid=15994&pid=integration&rid=1&utm_medium=partnership&utm_source=mlb_sponsorship&utm_campaign=integration","target":"_blank","visible":"false"},"menuItems":[]}]},{"itemId":"6bfaf88e-891c-4e05-a935-8a32bd23086a","text":"Shop","properties":{"link":"https://www.mlbshop.com/?_s=bm-mlbcom-hp","customProperties":"align:right;","icon":"shopping-cart"},"menuItems":[{"itemId":"91dcfa1d-f4de-4bf9-93f8-8f91f4069272″,"text":"MLB Online Shop","properties":{"link":"https://www.mlbshop.com/?_s=bm-mlbcom-hp","customProperties":""},"menuItems":[]},{"itemId":"d7b3c8e0-42c4-45c5-8278-c51adb21b47f","text":"Auction","properties":{"link":"https://auctions.mlb.com/iSynApp/showHomePage.action?sid=1101001&isynsharedsession=9mislq-18JnZhOEp-FeGzvUB3G6zxwkeKqwX99MKAttEdaSACl02r4aCDzYhNvUm","visible":"true"},"menuItems":[]},{"itemId":"c69e35fc-900e-4fcc-9348-085aa0febeab","text":"Gift Cards","properties":{"link":"https://www.mlbshop.com/gift-cards/x-462351+z-94899005-3509039474?_s=bm-mlbcom-Home","customProperties":""},"menuItems":[]},{"itemId":"7423a9ca-3a6f-42fe-8d6e-9459bed284c7″,"text":"MLB NYC Flagship Store","properties":{"link":"/shop/nyc-retail-store"},"menuItems":[]},{"itemId":"44958e84-599e-44b1-96b4-44f38a477942″,"text":"European Shop","properties":{"link":"http://www.mlbshopeurope.com/stores/mlb/en?portal=MLTS66FS&CMP=PSC-MLTS66FS","customProperties":""},"menuItems":[]},{"itemId":"51d3278e-90fd-4462-aec0-7cfd8de1cb79″,"text":"Photo Store","properties":{"link":"https://photostore.mlb.com/","visible":"true"},"menuItems":[]}]},{"itemId":"5052bac6-3f1d-4847-8739-42021d7cfc2d","text":"News","properties":{"link":"/news","customProperties":"amp:true;mobile:true"},"menuItems":[{"itemId":"d08f0874-ecb6-4378-93c6-be05b4397c21″,"text":"Rule Changes","properties":{"link":"https://www.mlb.com/rule-changes-2023″},"menuItems":[]},{"itemId":"82d45c9a-d055-4ab4-b785-576d982a2077″,"text":"Probable Pitchers","properties":{"link":"/probable-pitchers/","visible":"true","enabled":"true"},"menuItems":[]},{"itemId":"29c52020-6ed2-45f6-8f8b-6d7e909a68c1″,"text":"Starting Lineups","properties":{"link":"/starting-lineups"},"menuItems":[]},{"itemId":"28522a27-ab22-43ed-84b4-1b4760c39535″,"text":"Transactions","properties":{"link":"https://www.mlb.com/transactions"},"menuItems":[]},{"itemId":"28a2e573-86ba-4cdc-a924-86d3b6500979″,"text":"Injury Report","properties":{"link":"/injury-report","visible":"true"},"menuItems":[]},{"itemId":"3f97e5c6-cd8f-4c42-9be1-b816ea9f47b1″,"text":"World Baseball Classic","properties":{"link":"/world-baseball-classic"},"menuItems":[]},{"itemId":"c1ac7886-1d18-4ad8-9fc4-326ab4753144″,"text":"MLB Draft","properties":{"link":"/draft/2023″,"visible":"true"},"menuItems":[]},{"itemId":"7e316d55-5379-4151-a0e5-828b6b4f8ba8″,"text":"All-Star Game","properties":{"link":"/all-star/","visible":"true"},"menuItems":[]},{"itemId":"de347a3e-0811-49db-aca7-d56d79b69cde","text":"MLB Pipeline","properties":{"link":"https://www.mlb.com/pipeline"},"menuItems":[]},{"itemId":"6efef6dd-bb02-4811-85f8-c8088d743fae","text":"Postseason History","properties":{"link":"/postseason/history"},"menuItems":[]},{"itemId":"6ee1c331-faa0-4865-a062-1c98a2f67c0d","text":"Great Stories","properties":{"link":"/news/topic/longform","visible":"false"},"menuItems":[]}]},{"itemId":"ed72bef5-d993-4ffe-91d2-15abf6218c12″,"text":"Watch","properties":{"link":"/tv?&affiliateId=mlbMENU"},"menuItems":[{"itemId":"d492eeb7-757f-4600-b3b3-77882293b208″,"text":"Video","properties":{},"menuItems":[{"itemId":"5031c87a-7b97-4db0-a447-d29e556f380c","text":"Film Room Hub","properties":{"link":"/video"},"menuItems":[]},{"itemId":"49538483-21da-4efb-9624-3b27c74823ad","text":"Statcast","properties":{"link":"/video/topic/statcast"},"menuItems":[]},{"itemId":"5dbfda08-1915-42bc-a899-61f8906ede30″,"text":"MLB Network","properties":{"link":"/network"},"menuItems":[]},{"itemId":"168e1c3a-56a8-49f4-8800-ef5ff3024c7d","text":"MLB Originals","properties":{"link":"/fans/mlb-originals"},"menuItems":[]},{"itemId":"527369c6-59ed-47ec-b41f-2b71444bfeee","text":"Podcasts","properties":{"link":"/fans/podcasts"},"menuItems":[]}]},{"itemId":"5dd37289-4d79-4b66-8359-1c5d0954f7f1″,"text":"MLB.TV","properties":{},"menuItems":[{"itemId":"6c2eca19-80b0-45e0-a481-53d6200992e3″,"text":"Watch & Listen Archives","properties":{"link":"/live-stream-games?&affiliateID=mlbMENU","visible":"false"},"menuItems":[]},{"itemId":"1ff93fa1-3ae4-40e3-b263-f34d1e3a70e1″,"text":"Buy Offseason","properties":{"link":"/live-stream-games/subscribe?&affiliateId=mlbMENU","visible":"false"},"menuItems":[]},{"itemId":"5df3aa62-4f5b-479c-9669-4736862d0100″,"text":"Buy MLB Audio","properties":{"link":"/live-stream-games/subscribe/mlb-audio?&affiliateId=mlbMENU","visible":"false"},"menuItems":[]},{"itemId":"6410ddb0-717a-4b20-b24e-7ca0053c4f6c","text":"Buy MLB.TV","properties":{"link":"/live-stream-games/subscribe?&affiliateId=mlbMENU","visible":"true"},"menuItems":[]},{"itemId":"970ab45a-756b-41ab-a415-7ca4763ec42e","text":"Buy At Bat","properties":{"link":"/live-stream-games/subscribe/at-bat?&affiliateId=mlbMENU","visible":"true"},"menuItems":[]},{"itemId":"ef4d2e49-aa20-4201-9d5f-ad47b709152f","text":"MLB.TV ST Schedule","properties":{"link":"https://www.mlb.com/live-stream-games/spring-training?&affiliateId=mlbMENU"},"menuItems":[]},{"itemId":"eb7e4c9b-2723-4af8-9e4c-c4f52be5efb2″,"text":"Watch & Listen","properties":{"link":"/live-stream-games?&affiliateID=mlbMENU","visible":"true"},"menuItems":[]},{"itemId":"18ca0078-fb25-40f0-98b9-05c2a605965b","text":"Help Center","properties":{"link":"/live-stream-games/help-center?&affiliateID=mlbMENU"},"menuItems":[]}]}]},{"itemId":"7c68f445-5095-46cc-bab3-73af6c921597″,"text":"Scores","properties":{"link":"/scores","customProperties":"mobile:true;amp:true;","visible":"true"},"menuItems":[]},{"itemId":"248fea7e-1d19-452a-bb5c-999e1a09b7cd","text":"Schedule","properties":{"link":"/schedule","customProperties":"amp:true;mobile:true;"},"menuItems":[{"itemId":"d92068f1-fb82-4b03-ae27-10f3e812b6fa","text":"2023 Regular Season","properties":{"link":"/schedule/2023-03-30″},"menuItems":[]},{"itemId":"d50ca7f4-b653-4c3a-a63b-c653bff0bbdc","text":"2023 Spring Training","properties":{"link":"/schedule/"},"menuItems":[]},{"itemId":"f4010b7a-902c-41e0-b405-e0fa695b5c64″,"text":"2022 Regular Season","properties":{"link":"/schedule/2022-04-07″},"menuItems":[]},{"itemId":"2755030c-3503-4089-b6c2-b8e982459945″,"text":"2022 Postseason","properties":{"link":"/postseason"},"menuItems":[]},{"itemId":"94c9d7e4-3477-4217-87f3-008d2290b9ee","text":"Important Dates","properties":{"link":"/schedule/events#important-dates"},"menuItems":[]},{"itemId":"3747c1bc-9b3d-43f5-bd04-d1274c59c02a","text":"Team by Team Schedule","properties":{"link":"/schedule/team-by-team"},"menuItems":[]},{"itemId":"e75ecc62-7e72-4b53-9705-a23e2b511f83″,"text":"National Broadcasts","properties":{"link":"https://www.mlb.com/live-stream-games/national-broadcast-schedule","visible":"true"},"menuItems":[]}]},{"itemId":"9efaf5e3-6a93-4e4f-b8af-1219110ecb30″,"text":"Stats","properties":{"link":"/stats","customProperties":"mobile:true;amp:true;"},"menuItems":[{"itemId":"41566816-1cb8-421f-9a4a-9ccdefa7ed69″,"text":"Statcast Leaders","properties":{"link":"https://baseballsavant.mlb.com/statcast_leaderboard"},"menuItems":[]},{"itemId":"2d0a2684-64c6-4d9f-87a1-a7cf9f661e2f","text":"Baseball Savant","properties":{"link":"https://baseballsavant.mlb.com/"},"menuItems":[]},{"itemId":"b9d0ae31-f31d-449b-82fb-5a77f59293ba","text":"Top Prospect Stats","properties":{"link":"/prospects/stats/top-prospects?type=all&minPA=1″},"menuItems":[]}]},{"itemId":"6af88ec1-9bfe-4494-abc0-898dc919a081″,"text":"Standings","properties":{"link":"/standings","customProperties":"amp:true;"},"menuItems":[]},{"itemId":"15179b67-af8e-42a1-964c-45944e1ab986″,"text":"Youth","properties":{"link":"/youth-baseball-softball"},"menuItems":[{"itemId":"0a04e27f-bcb1-4901-acc0-a14e9ebc5852″,"text":"Play Ball","properties":{"link":"/play-ball"},"menuItems":[]},{"itemId":"f989fcab-01fa-4d66-8e11-6640be070816″,"text":"Youth Baseball & Softball","properties":{"link":"/youth-baseball-softball"},"menuItems":[]}]},{"itemId":"8c842eeb-dedd-430c-a452-57a740d5c3df","text":"Players","properties":{"link":"/players","customProperties":"","icon":"group","visible":"true"},"menuItems":[{"itemId":"2983d4a7-0410-41fe-8b08-35c866b373d5″,"text":"Prospect Rankings","properties":{"link":"/prospects"},"menuItems":[]},{"itemId":"1f929714-240b-4834-b859-8066a592fa8e","text":"Depth Charts","properties":{"link":"/team/roster/depth-chart"},"menuItems":[]},{"itemId":"a07b01b6-397e-450e-bd8d-7e00c6dd2a80″,"text":"MLB Players Association","properties":{"link":"https://www.mlbplayers.com"},"menuItems":[]},{"itemId":"3de86763-c530-400b-a7de-1761c927d7bc","text":"Negro Leagues","properties":{"link":"/history/negro-leagues"},"menuItems":[]}]},{"itemId":"98430c25-7924-4112-a70f-0b32fd31594f","text":"Teams","properties":{"link":"/team","customProperties":"amp:true;module:teammodule;align:right;"},"menuItems":[{"itemId":"9191834c-54c4-40a7-8aac-9745d3666084″,"text":"Team Module","properties":{"customProperties":"module:teammodule;"},"menuItems":[]}]},{"itemId":"397b9e10-6d65-4fc0-bbe6-8d07f5e8d3a8″,"text":"ES","properties":{"link":"/es","customProperties":"align:right;lang:es;label:Español","toolTip":"Español"},"menuItems":[{"itemId":"ceb83c80-eaf2-4dd4-bdc6-e23b1e11ae60″,"text":"日本語","properties":{"link":"http://www.mlb.jp/","customProperties":"lang:ja","visible":"false"},"menuItems":[]},{"itemId":"27ac6728-00c1-4965-963b-05d33268fb50″,"text":"한국어","properties":{"link":"https://www.mlbkor.com/","customProperties":"lang:ko","visible":"false"},"menuItems":[]}]}]},"locale":"en","reqPath":"/news/jackson-merrill-raps-3-hits-in-cactus-league-opener","sharedNav":{"instanceId":"6c265854-d856-4f92-aea1-07dfe5cda020″,"name":"shared-nav","variables":[],"menuItems":[{"itemId":"93b3e9b2-65a9-4585-9185-03e255cb523c","text":"MLB.TV","properties":{"link":"https://www.mlb.com/tv?&affiliateId=clubMENU","icon":"watch","customProperties":"align:right;"},"menuItems":[{"itemId":"2d8d6ad8-dc2a-4971-9b12-f1853530c5d3″,"text":"Buy MLB.TV","properties":{"link":"https://www.mlb.com/live-stream-games/subscribe?&affiliateId=clubMENU"},"menuItems":[]},{"itemId":"38c2991b-6331-469b-bce7-c53ab3267bc6″,"text":"Buy At Bat","properties":{"link":"/live-stream-games/subscribe/mlb-audio?&affiliateId=clubMENU"},"menuItems":[]},{"itemId":"9d00394b-a033-4e99-8521-03642810c559″,"text":"MLB.TV ST Schedule","properties":{"link":"https://www.mlb.com/live-stream-games/spring-training?&affiliateId=clubMENU"},"menuItems":[]},{"itemId":"d54a2b21-9db9-4252-9ebe-e3a4b2a3cf83″,"text":"Watch & Listen","properties":{"link":"https://www.mlb.com/live-stream-games?&affiliateId=clubMENU"},"menuItems":[]},{"itemId":"2f433cfb-699a-43bb-ab54-d3b4a7269d8e","text":"Watch MLB.TV Docs & Features","properties":{"link":"https://www.mlb.com/tv/featured?&affiliateId=clubMENU"},"menuItems":[]},{"itemId":"6254640c-2069-4447-822f-084d0a38f161″,"text":"MLB.TV Help Center","properties":{"link":"https://www.mlb.com/live-stream-games/help-center?&affiliateId=clubMENU"},"menuItems":[]}]},{"itemId":"d54d0be0-f610-4f8b-90ac-c246c361e2e2″,"text":"Fantasy","properties":{"link":"https://www.mlb.com/fantasy","customProperties":"","visible":"true"},"menuItems":[{"itemId":"5ec4bde4-6bc1-412b-a92b-6b7cb3b2f07c","text":"Yahoo Fantasy Baseball","properties":{"link":"http://yhoo.it/3aK5QQw","visible":"false","target":"_blank"},"menuItems":[]},{"itemId":"b2a63b51-03fc-423d-971e-1e566f6008f4″,"text":"MLB Rally","properties":{"link":"https://www.mlb.com/apps/rally","visible":"false"},"menuItems":[]},{"itemId":"f6929b88-632d-4a6f-ba73-8a64fccba1b0″,"text":"MLB Quick Pick","properties":{"link":"https://www.mlb.com/apps/rally/quickpick","visible":"false"},"menuItems":[]},{"itemId":"0ebe9e5d-3fc7-48d2-acb1-c33eb931b911″,"text":"MLB Beat the Streak","properties":{"link":"https://www.mlb.com/apps/beat-the-streak","visible":"false"},"menuItems":[]},{"itemId":"086bd307-a929-4414-9dd7-09bdac8d3f2e","text":"MLB MOONBLASTS Pick 'Em","properties":{"link":"https://www.mlb.com/sponsorship/ftx-moonblasts-pick-em","customProperties":"expires: 1627754400″,"visible":"false"},"menuItems":[]},{"itemId":"14aa1d4b-0193-4670-a1fc-b4386d4977e8″,"text":"The Vault","properties":{"link":"https://www.mlb.com/the-vault","visible":"false"},"menuItems":[]},{"itemId":"4e0abdd4-8a0f-4bc5-838f-91dd2796041e","text":"MLB Home Run Derby","properties":{"link":"https://www.mlb.com/fantasy/home-run-derby"},"menuItems":[]},{"itemId":"7d8dfda7-345a-46fa-82dc-105068ba223e","text":"Season Pick 'Em","properties":{"link":"https://www.mlb.com/season-pick-em?affiliateId=spe-fantasynav-club-2021″,"visible":"false"},"menuItems":[]},{"itemId":"6eda396d-199b-4772-b3c9-c0b032513b6c","text":"MLB Pre-Pick (AUS)","properties":{"customProperties":"","link":"https://www.mlb.com/pre-pick/tab","visible":"false"},"menuItems":[]},{"itemId":"9f1ff266-0ed8-4adb-ba77-428d1871b237″,"text":"Closer Report","properties":{"link":"https://www.mlb.com/closer-report","visible":"false"},"menuItems":[]},{"itemId":"4c4f57bd-e31a-46c9-8f73-0fa2227451d3″,"text":"Prospect Rankings","properties":{"link":"https://www.mlb.com/prospects"},"menuItems":[]},{"itemId":"1ebe4dc3-2c6a-469f-be59-474fe14dbbd7″,"text":"MLB Champions","properties":{"link":"https://www.mlbc.app/?ref=mlbcom","target":"_blank","visible":"false"},"menuItems":[]}]},{"itemId":"d1f61f89-9fd0-4f03-be17-2c5e128711a4″,"text":"Apps","properties":{"link":"/wp-content/plugins"},"menuItems":[{"itemId":"83ac2ddf-414b-47d1-afec-ffacd068ab57″,"text":"MLB","properties":{"link":"/wp-content/plugins/mlb-app"},"menuItems":[]},{"itemId":"83dbba73-02ac-4ba0-bebf-2c62ef04c19e","text":"MLB Rally","properties":{"link":"https://www.mlb.com/apps/rally","visible":"false"},"menuItems":[]},{"itemId":"26fda476-348c-4f42-aa7c-92d1f9b1bf5c","text":"MLB Beat the Streak","properties":{"link":"https://www.mlb.com/apps/beat-the-streak","visible":"false"},"menuItems":[]},{"itemId":"e09e6978-fcf7-4c2f-8387-59d83b7be38e","text":"MLB Ballpark","properties":{"link":"/wp-content/plugins/ballpark"},"menuItems":[]},{"itemId":"86320a6b-11a1-4312-8eeb-a6c44f293f6c","text":"MLB Play","properties":{"link":"https://www.mlb.com/play"},"menuItems":[]},{"itemId":"5e7b8019-9484-4872-abd7-8b963cd5969e","text":"MiLB First Pitch","properties":{"link":"https://www.milb.com/about/first-pitch"},"menuItems":[]},{"itemId":"4fd8c1f8-a753-4501-916c-663390f1a566″,"text":"MLB Home Run Derby","properties":{"link":"https://www.mlb.com/fantasy/home-run-derby"},"menuItems":[]},{"itemId":"9d8dfe8b-be1a-4ebf-9509-6bd0165a868e","text":"MLB FAQs","properties":{"link":"/wp-content/plugins/mlb-app/faq-apple"},"menuItems":[]},{"itemId":"df4e8527-e357-4272-bcf7-61876ed9455d","text":"MLB Ballpark FAQs","properties":{"link":"/wp-content/plugins/ballpark/faq-apple","visible":"true"},"menuItems":[]},{"itemId":"0ee38329-4c3c-48f5-86c7-04a58c24c006″,"text":"MLB Play FAQs","properties":{"link":"https://www.mlb.com/help/play/frequently-asked-questions"},"menuItems":[]},{"itemId":"c2943c65-a843-437a-9ef4-4ccfe5be088f","text":"MLB Rally FAQs","properties":{"link":"https://www.mlb.com/apps/rally/faq-apple","visible":"false"},"menuItems":[]}]}]},"styleProps":{},"teamNameSlug":"","teamsData":[{"springLeague":{"id": 114,"name":"Cactus League","link":"/api/v1/league/114″,"abbreviation":"CL"},"allStarStatus":"N","id": 133,"name":"Oakland Athletics","link":"/api/v1/teams/133″,"season": 2023,"venue":{"id": 10,"name":"Oakland Coliseum","link":"/api/v1/venues/10″,"location":{"address1″:"7000 Coliseum Way","city":"Oakland","state":"California","stateAbbrev":"CA","postalCode":"94621″,"defaultCoordinates":{"latitude": 37.751511,"longitude":-122.200698},"country":"USA","phone":"(510) 638-4900″},"timeZone":{"id":"America/Los_Angeles","offset":-8,"tz":"PST"},"active":true,"season":"2023″},"springVenue":{"id": 2507,"link":"/api/v1/venues/2507″},"teamCode":"oak","fileCode":"oak","abbreviation":"OAK","teamName":"Athletics","locationName":"Oakland","firstYearOfPlay":"1901″,"league":{"id": 103,"name":"American League","link":"/api/v1/league/103″},"division":{"id": 200,"name":"American League West","link":"/api/v1/divisions/200″},"sport":{"id":1,"link":"/api/v1/sports/1″,"name":"Major League Baseball"},"shortName":"Oakland","franchiseName":"Oakland","clubName":"Athletics","active":true},{"springLeague":{"id": 115,"name":"Grapefruit League","link":"/api/v1/league/115″,"abbreviation":"GL"},"allStarStatus":"N","id": 134,"name":"Pittsburgh Pirates","link":"/api/v1/teams/134″,"season": 2023,"venue":{"id": 31,"name":"PNC Park","link":"/api/v1/venues/31″,"location":{"address1″:"115 Federal Street","city":"Pittsburgh","state":"Pennsylvania","stateAbbrev":"PA","postalCode":"15212″,"defaultCoordinates":{"latitude": 40.446904,"longitude":-80.005753},"country":"USA","phone":"(412) 323-5000″},"timeZone":{"id":"America/New_York","offset":-5,"tz":"EST"},"active":true,"season":"2023″},"springVenue":{"id": 2526,"link":"/api/v1/venues/2526″},"teamCode":"pit","fileCode":"pit","abbreviation":"PIT","teamName":"Pirates","locationName":"Pittsburgh","firstYearOfPlay":"1882″,"league":{"id": 104,"name":"National League","link":"/api/v1/league/104″},"division":{"id": 205,"name":"National League Central","link":"/api/v1/divisions/205″},"sport":{"id":1,"link":"/api/v1/sports/1″,"name":"Major League Baseball"},"shortName":"Pittsburgh","franchiseName":"Pittsburgh","clubName":"Pirates","active":true},{"springLeague":{"id": 114,"name":"Cactus League","link":"/api/v1/league/114″,"abbreviation":"CL"},"allStarStatus":"N","id": 135,"name":"San Diego Padres","link":"/api/v1/teams/135″,"season": 2023,"venue":{"id": 2680,"name":"Petco Park","link":"/api/v1/venues/2680″,"location":{"address1″:"100 Park Boulevard","city":"San Diego","state":"California","stateAbbrev":"CA","postalCode":"92101″,"defaultCoordinates":{"latitude": 32.707861,"longitude":-117.157278},"country":"USA","phone":"(619) 795-5000″},"timeZone":{"id":"America/Los_Angeles","offset":-8,"tz":"PST"},"active":true,"season":"2023″},"springVenue":{"id": 2530,"link":"/api/v1/venues/2530″},"teamCode":"sdn","fileCode":"sd","abbreviation":"SD","teamName":"Padres","locationName":"San Diego","firstYearOfPlay":"1968″,"league":{"id": 104,"name":"National League","link":"/api/v1/league/104″},"division":{"id": 203,"name":"National League West","link":"/api/v1/divisions/203″},"sport":{"id":1,"link":"/api/v1/sports/1″,"name":"Major League Baseball"},"shortName":"San Diego","franchiseName":"San Diego","clubName":"Padres","active":true},{"springLeague":{"id": 114,"name":"Cactus League","link":"/api/v1/league/114″,"abbreviation":"CL"},"allStarStatus":"N","id": 136,"name":"Seattle Mariners","link":"/api/v1/teams/136″,"season": 2023,"venue":{"id": 680,"name":"T-Mobile Park","link":"/api/v1/venues/680″,"location":{"address1″:"P.O. Box 4100″,"city":"Seattle","state":"Washington","stateAbbrev":"WA","postalCode":"98104″,"defaultCoordinates":{"latitude": 47.591333,"longitude":-122.33251},"country":"USA","phone":"(206) 346-4000″},"timeZone":{"id":"America/Los_Angeles","offset":-8,"tz":"PST"},"active":true,"season":"2023″},"springVenue":{"id": 2530,"link":"/api/v1/venues/2530″},"teamCode":"sea","fileCode":"sea","abbreviation":"SEA","teamName":"Mariners","locationName":"Seattle","firstYearOfPlay":"1977″,"league":{"id": 103,"name":"American League","link":"/api/v1/league/103″},"division":{"id": 200,"name":"American League West","link":"/api/v1/divisions/200″},"sport":{"id":1,"link":"/api/v1/sports/1″,"name":"Major League Baseball"},"shortName":"Seattle","franchiseName":"Seattle","clubName":"Mariners","active":true},{"springLeague":{"id": 114,"name":"Cactus League","link":"/api/v1/league/114″,"abbreviation":"CL"},"allStarStatus":"N","id": 137,"name":"San Francisco Giants","link":"/api/v1/teams/137″,"season": 2023,"venue":{"id": 2395,"name":"Oracle Park","link":"/api/v1/venues/2395″,"location":{"address1″:"24 Willie Mays Plaza","city":"San Francisco","state":"California","stateAbbrev":"CA","postalCode":"94107″,"defaultCoordinates":{"latitude": 37.778383,"longitude":-122.389448},"country":"USA","phone":"(415) 972-2000″},"timeZone":{"id":"America/Los_Angeles","offset":-8,"tz":"PST"},"active":true,"season":"2023″},"springVenue":{"id": 2532,"link":"/api/v1/venues/2532″},"teamCode":"sfn","fileCode":"sf","abbreviation":"SF","teamName":"Giants","locationName":"San Francisco","firstYearOfPlay":"1883″,"league":{"id": 104,"name":"National League","link":"/api/v1/league/104″},"division":{"id": 203,"name":"National League West","link":"/api/v1/divisions/203″},"sport":{"id":1,"link":"/api/v1/sports/1″,"name":"Major League Baseball"},"shortName":"San Francisco","franchiseName":"San Francisco","clubName":"Giants","active":true},{"springLeague":{"id": 115,"name":"Grapefruit League","link":"/api/v1/league/115″,"abbreviation":"GL"},"allStarStatus":"N","id": 138,"name":"St. Louis Cardinals","link":"/api/v1/teams/138″,"season": 2023,"venue":{"id": 2889,"name":"Busch Stadium","link":"/api/v1/venues/2889″,"location":{"address1″:"700 Clark Street","city":"St. Louis","state":"Missouri","stateAbbrev":"MO","postalCode":"63102″,"defaultCoordinates":{"latitude": 38.62256667,"longitude":-90.19286667},"country":"USA","phone":"(314) 345-9600″},"timeZone":{"id":"America/Chicago","offset":-6,"tz":"CST"},"active":true,"season":"2023″},"springVenue":{"id": 2520,"link":"/api/v1/venues/2520″},"teamCode":"sln","fileCode":"stl","abbreviation":"STL","teamName":"Cardinals","locationName":"St. Louis","firstYearOfPlay":"1892″,"league":{"id": 104,"name":"National League","link":"/api/v1/league/104″},"division":{"id": 205,"name":"National League Central","link":"/api/v1/divisions/205″},"sport":{"id":1,"link":"/api/v1/sports/1″,"name":"Major League Baseball"},"shortName":"St. Louis","franchiseName":"St. Louis","clubName":"Cardinals","active":true},{"springLeague":{"id": 115,"name":"Grapefruit League","link":"/api/v1/league/115″,"abbreviation":"GL"},"allStarStatus":"N","id": 139,"name":"Tampa Bay Rays","link":"/api/v1/teams/139″,"season": 2023,"venue":{"id": 12,"name":"Tropicana Field","link":"/api/v1/venues/12″,"location":{"address1″:"One Tropicana Drive","city":"St. Petersburg","state":"Florida","stateAbbrev":"FL","postalCode":"33705″,"defaultCoordinates":{"latitude": 27.767778,"longitude":-82.6525},"country":"USA","phone":"(727) 825-3137″},"timeZone":{"id":"America/New_York","offset":-5,"tz":"EST"},"active":true,"season":"2023″},"springVenue":{"id": 2534,"link":"/api/v1/venues/2534″},"teamCode":"tba","fileCode":"tb","abbreviation":"TB","teamName":"Rays","locationName":"St. Petersburg","firstYearOfPlay":"1996″,"league":{"id": 103,"name":"American League","link":"/api/v1/league/103″},"division":{"id": 201,"name":"American League East","link":"/api/v1/divisions/201″},"sport":{"id":1,"link":"/api/v1/sports/1″,"name":"Major League Baseball"},"shortName":"Tampa Bay","franchiseName":"Tampa Bay","clubName":"Rays","active":true},{"springLeague":{"id": 114,"name":"Cactus League","link":"/api/v1/league/114″,"abbreviation":"CL"},"allStarStatus":"N","id": 140,"name":"Texas Rangers","link":"/api/v1/teams/140″,"season": 2023,"venue":{"id": 5325,"name":"Globe Life Field","link":"/api/v1/venues/5325″,"location":{"address1″:"734 Stadium Drive","city":"Arlington","state":"Texas","stateAbbrev":"TX","postalCode":"76011″,"defaultCoordinates":{"latitude": 32.747299,"longitude":-97.081818},"country":"USA","phone":"(817) 533-1972″},"timeZone":{"id":"America/Chicago","offset":-6,"tz":"CST"},"active":true,"season":"2023″},"springVenue":{"id": 2603,"link":"/api/v1/venues/2603″},"teamCode":"tex","fileCode":"tex","abbreviation":"TEX","teamName":"Rangers","locationName":"Arlington","firstYearOfPlay":"1961″,"league":{"id": 103,"name":"American League","link":"/api/v1/league/103″},"division":{"id": 200,"name":"American League West","link":"/api/v1/divisions/200″},"sport":{"id":1,"link":"/api/v1/sports/1″,"name":"Major League Baseball"},"shortName":"Texas","franchiseName":"Texas","clubName":"Rangers","active":true},{"springLeague":{"id": 115,"name":"Grapefruit League","link":"/api/v1/league/115″,"abbreviation":"GL"},"allStarStatus":"N","id": 141,"name":"Toronto Blue Jays","link":"/api/v1/teams/141″,"season": 2023,"venue":{"id": 14,"name":"Rogers Centre","link":"/api/v1/venues/14″,"location":{"address1″:"1 Blue Jays Way, Suite 3200″,"city":"Toronto","state":"Ontario","stateAbbrev":"ON","postalCode":"M5V1J1″,"defaultCoordinates":{"latitude": 43.64155,"longitude":-79.38915},"country":"Canada","phone":"(416) 341-1000″},"timeZone":{"id":"America/Toronto","offset":-5,"tz":"EST"},"active":true,"season":"2023″},"springVenue":{"id": 2536,"link":"/api/v1/venues/2536″},"teamCode":"tor","fileCode":"tor","abbreviation":"TOR","teamName":"Blue Jays","locationName":"Toronto","firstYearOfPlay":"1977″,"league":{"id": 103,"name":"American League","link":"/api/v1/league/103″},"division":{"id": 201,"name":"American League East","link":"/api/v1/divisions/201″},"sport":{"id":1,"link":"/api/v1/sports/1″,"name":"Major League Baseball"},"shortName":"Toronto","franchiseName":"Toronto","clubName":"Blue Jays","active":true},{"springLeague":{"id": 115,"name":"Grapefruit League","link":"/api/v1/league/115″,"abbreviation":"GL"},"allStarStatus":"N","id": 142,"name":"Minnesota Twins","link":"/api/v1/teams/142″,"season": 2023,"venue":{"id": 3312,"name":"Target Field","link":"/api/v1/venues/3312″,"location":{"address1″:"1 Twins Way","city":"Minneapolis","state":"Minnesota","stateAbbrev":"MN","postalCode":"55403″,"defaultCoordinates":{"latitude": 44.981829,"longitude":-93.277891},"country":"USA","phone":"(612) 659-3400″},"timeZone":{"id":"America/Chicago","offset":-6,"tz":"CST"},"active":true,"season":"2023″},"springVenue":{"id": 2862,"link":"/api/v1/venues/2862″},"teamCode":"min","fileCode":"min","abbreviation":"MIN","teamName":"Twins","locationName":"Minneapolis","firstYearOfPlay":"1901″,"league":{"id": 103,"name":"American League","link":"/api/v1/league/103″},"division":{"id": 202,"name":"American League Central","link":"/api/v1/divisions/202″},"sport":{"id":1,"link":"/api/v1/sports/1″,"name":"Major League Baseball"},"shortName":"Minnesota","franchiseName":"Minnesota","clubName":"Twins","active":true},{"springLeague":{"id": 115,"name":"Grapefruit League","link":"/api/v1/league/115″,"abbreviation":"GL"},"allStarStatus":"N","id": 143,"name":"Philadelphia Phillies","link":"/api/v1/teams/143″,"season": 2023,"venue":{"id": 2681,"name":"Citizens Bank Park","link":"/api/v1/venues/2681″,"location":{"address1″:"One Citizens Bank Way","city":"Philadelphia","state":"Pennsylvania","stateAbbrev":"PA","postalCode":"19148″,"defaultCoordinates":{"latitude": 39.90539086,"longitude":-75.16716957},"country":"USA","phone":"(215) 463-6000″},"timeZone":{"id":"America/New_York","offset":-5,"tz":"EST"},"active":true,"season":"2023″},"springVenue":{"id": 2700,"link":"/api/v1/venues/2700″},"teamCode":"phi","fileCode":"phi","abbreviation":"PHI","teamName":"Phillies","locationName":"Philadelphia","firstYearOfPlay":"1883″,"league":{"id": 104,"name":"National League","link":"/api/v1/league/104″},"division":{"id": 204,"name":"National League East","link":"/api/v1/divisions/204″},"sport":{"id":1,"link":"/api/v1/sports/1″,"name":"Major League Baseball"},"shortName":"Philadelphia","franchiseName":"Philadelphia","clubName":"Phillies","active":true},{"springLeague":{"id": 115,"name":"Grapefruit League","link":"/api/v1/league/115″,"abbreviation":"GL"},"allStarStatus":"N","id": 144,"name":"Atlanta Braves","link":"/api/v1/teams/144″,"season": 2023,"venue":{"id": 4705,"name":"Truist Park","link":"/api/v1/venues/4705″,"location":{"address1″:"755 Battery Avenue","city":"Atlanta","state":"Georgia","stateAbbrev":"GA","postalCode":"30339″,"defaultCoordinates":{"latitude": 33.890672,"longitude":-84.467641},"country":"USA"},"timeZone":{"id":"America/New_York","offset":-5,"tz":"EST"},"active":true,"season":"2023″},"springVenue":{"id": 5380,"link":"/api/v1/venues/5380″},"teamCode":"atl","fileCode":"atl","abbreviation":"ATL","teamName":"Braves","locationName":"Atlanta","firstYearOfPlay":"1871″,"league":{"id": 104,"name":"National League","link":"/api/v1/league/104″},"division":{"id": 204,"name":"National League East","link":"/api/v1/divisions/204″},"sport":{"id":1,"link":"/api/v1/sports/1″,"name":"Major League Baseball"},"shortName":"Atlanta","franchiseName":"Atlanta","clubName":"Braves","active":true},{"springLeague":{"id": 114,"name":"Cactus League","link":"/api/v1/league/114″,"abbreviation":"CL"},"allStarStatus":"N","id": 145,"name":"Chicago White Sox","link":"/api/v1/teams/145″,"season": 2023,"venue":{"id":4,"name":"Guaranteed Rate Field","link":"/api/v1/venues/4″,"location":{"address1″:"333 West 35th Street","city":"Chicago","state":"Illinois","stateAbbrev":"IL","postalCode":"60616″,"defaultCoordinates":{"latitude": 41.83,"longitude":-87.634167},"country":"USA","phone":"(312) 674-1000″},"timeZone":{"id":"America/Chicago","offset":-6,"tz":"CST"},"active":true,"season":"2023″},"springVenue":{"id": 3809,"link":"/api/v1/venues/3809″},"teamCode":"cha","fileCode":"cws","abbreviation":"CWS","teamName":"White Sox","locationName":"Chicago","firstYearOfPlay":"1901″,"league":{"id": 103,"name":"American League","link":"/api/v1/league/103″},"division":{"id": 202,"name":"American League Central","link":"/api/v1/divisions/202″},"sport":{"id":1,"link":"/api/v1/sports/1″,"name":"Major League Baseball"},"shortName":"Chi White Sox","franchiseName":"Chicago","clubName":"White Sox","active":true},{"springLeague":{"id": 115,"name":"Grapefruit League","link":"/api/v1/league/115″,"abbreviation":"GL"},"allStarStatus":"N","id": 146,"name":"Miami Marlins","link":"/api/v1/teams/146″,"season": 2023,"venue":{"id": 4169,"name":"loanDepot park","link":"/api/v1/venues/4169″,"location":{"address1″:"501 Marlins Way","city":"Miami","state":"Florida","stateAbbrev":"FL","postalCode":"33125″,"defaultCoordinates":{"latitude": 25.77796236,"longitude":-80.21951795},"country":"USA"},"timeZone":{"id":"America/New_York","offset":-5,"tz":"EST"},"active":true,"season":"2023″},"springVenue":{"id": 2520,"link":"/api/v1/venues/2520″},"teamCode":"mia","fileCode":"mia","abbreviation":"MIA","teamName":"Marlins","locationName":"Miami","firstYearOfPlay":"1991″,"league":{"id": 104,"name":"National League","link":"/api/v1/league/104″},"division":{"id": 204,"name":"National League East","link":"/api/v1/divisions/204″},"sport":{"id":1,"link":"/api/v1/sports/1″,"name":"Major League Baseball"},"shortName":"Miami","franchiseName":"Miami","clubName":"Marlins","active":true},{"springLeague":{"id": 115,"name":"Grapefruit League","link":"/api/v1/league/115″,"abbreviation":"GL"},"allStarStatus":"N","id": 147,"name":"New York Yankees","link":"/api/v1/teams/147″,"season": 2023,"venue":{"id": 3313,"name":"Yankee Stadium","link":"/api/v1/venues/3313″,"location":{"address1″:"One East 161st Street","city":"Bronx","state":"New York","stateAbbrev":"NY","postalCode":"10451″,"defaultCoordinates":{"latitude": 40.82919482,"longitude":-73.9264977},"country":"USA","phone":"(718) 293-4300″},"timeZone":{"id":"America/New_York","offset":-5,"tz":"EST"},"active":true,"season":"2023″},"springVenue":{"id": 2523,"link":"/api/v1/venues/2523″},"teamCode":"nya","fileCode":"nyy","abbreviation":"NYY","teamName":"Yankees","locationName":"Bronx","firstYearOfPlay":"1903″,"league":{"id": 103,"name":"American League","link":"/api/v1/league/103″},"division":{"id": 201,"name":"American League East","link":"/api/v1/divisions/201″},"sport":{"id":1,"link":"/api/v1/sports/1″,"name":"Major League Baseball"},"shortName":"NY Yankees","franchiseName":"New York","clubName":"Yankees","active":true},{"springLeague":{"id": 114,"name":"Cactus League","link":"/api/v1/league/114″,"abbreviation":"CL"},"allStarStatus":"N","id": 158,"name":"Milwaukee Brewers","link":"/api/v1/teams/158″,"season": 2023,"venue":{"id": 32,"name":"American Family Field","link":"/api/v1/venues/32″,"location":{"address1″:"One Brewers Way","city":"Milwaukee","state":"Wisconsin","stateAbbrev":"WI","postalCode":"53214″,"defaultCoordinates":{"latitude": 43.02838,"longitude":-87.97099},"country":"USA","phone":"(414) 902-4400″},"timeZone":{"id":"America/Chicago","offset":-6,"tz":"CST"},"active":true,"season":"2023″},"springVenue":{"id": 2518,"link":"/api/v1/venues/2518″},"teamCode":"mil","fileCode":"mil","abbreviation":"MIL","teamName":"Brewers","locationName":"Milwaukee","firstYearOfPlay":"1968″,"league":{"id": 104,"name":"National League","link":"/api/v1/league/104″},"division":{"id": 205,"name":"National League Central","link":"/api/v1/divisions/205″},"sport":{"id":1,"link":"/api/v1/sports/1″,"name":"Major League Baseball"},"shortName":"Milwaukee","franchiseName":"Milwaukee","clubName":"Brewers","active":true},{"springLeague":{"id": 114,"name":"Cactus League","link":"/api/v1/league/114″,"abbreviation":"CL"},"allStarStatus":"N","id": 108,"name":"Los Angeles Angels","link":"/api/v1/teams/108″,"season": 2023,"venue":{"id":1,"name":"Angel Stadium","link":"/api/v1/venues/1″,"location":{"address1″:"2000 Gene Autry Way","city":"Anaheim","state":"California","stateAbbrev":"CA","postalCode":"92806″,"defaultCoordinates":{"latitude": 33.80019044,"longitude":-117.8823996},"country":"USA","phone":"(714) 940-2000″},"timeZone":{"id":"America/Los_Angeles","offset":-8,"tz":"PST"},"active":true,"season":"2023″},"springVenue":{"id": 2500,"link":"/api/v1/venues/2500″},"teamCode":"ana","fileCode":"ana","abbreviation":"LAA","teamName":"Angels","locationName":"Anaheim","firstYearOfPlay":"1961″,"league":{"id": 103,"name":"American League","link":"/api/v1/league/103″},"division":{"id": 200,"name":"American League West","link":"/api/v1/divisions/200″},"sport":{"id":1,"link":"/api/v1/sports/1″,"name":"Major League Baseball"},"shortName":"LA Angels","franchiseName":"Los Angeles","clubName":"Angels","active":true},{"springLeague":{"id": 114,"name":"Cactus League","link":"/api/v1/league/114″,"abbreviation":"CL"},"allStarStatus":"N","id": 109,"name":"Arizona Diamondbacks","link":"/api/v1/teams/109″,"season": 2023,"venue":{"id": 15,"name":"Chase Field","link":"/api/v1/venues/15″,"location":{"address1″:"401 East Jefferson Street","city":"Phoenix","state":"Arizona","stateAbbrev":"AZ","postalCode":"85004″,"defaultCoordinates":{"latitude": 33.445302,"longitude":-112.066687},"country":"USA","phone":"(602) 462-6500″},"timeZone":{"id":"America/Phoenix","offset":-7,"tz":"MST"},"active":true,"season":"2023″},"springVenue":{"id": 4249,"link":"/api/v1/venues/4249″},"teamCode":"ari","fileCode":"ari","abbreviation":"AZ","teamName":"D-backs","locationName":"Phoenix","firstYearOfPlay":"1996″,"league":{"id": 104,"name":"National League","link":"/api/v1/league/104″},"division":{"id": 203,"name":"National League West","link":"/api/v1/divisions/203″},"sport":{"id":1,"link":"/api/v1/sports/1″,"name":"Major League Baseball"},"shortName":"Arizona","franchiseName":"Arizona","clubName":"Diamondbacks","active":true},{"springLeague":{"id": 115,"name":"Grapefruit League","link":"/api/v1/league/115″,"abbreviation":"GL"},"allStarStatus":"N","id": 110,"name":"Baltimore Orioles","link":"/api/v1/teams/110″,"season": 2023,"venue":{"id":2,"name":"Oriole Park at Camden Yards","link":"/api/v1/venues/2″,"location":{"address1″:"333 West Camden Street","city":"Baltimore","state":"Maryland","stateAbbrev":"MD","postalCode":"21201″,"defaultCoordinates":{"latitude": 39.283787,"longitude":-76.621689},"country":"USA","phone":"(410) 685-9800″},"timeZone":{"id":"America/New_York","offset":-5,"tz":"EST"},"active":true,"season":"2023″},"springVenue":{"id": 2508,"link":"/api/v1/venues/2508″},"teamCode":"bal","fileCode":"bal","abbreviation":"BAL","teamName":"Orioles","locationName":"Baltimore","firstYearOfPlay":"1901″,"league":{"id": 103,"name":"American League","link":"/api/v1/league/103″},"division":{"id": 201,"name":"American League East","link":"/api/v1/divisions/201″},"sport":{"id":1,"link":"/api/v1/sports/1″,"name":"Major League Baseball"},"shortName":"Baltimore","franchiseName":"Baltimore","clubName":"Orioles","active":true},{"springLeague":{"id": 115,"name":"Grapefruit League","link":"/api/v1/league/115″,"abbreviation":"GL"},"allStarStatus":"N","id": 111,"name":"Boston Red Sox","link":"/api/v1/teams/111″,"season": 2023,"venue":{"id":3,"name":"Fenway Park","link":"/api/v1/venues/3″,"location":{"address1″:"4 Yawkey Way","city":"Boston","state":"Massachusetts","stateAbbrev":"MA","postalCode":"2215″,"defaultCoordinates":{"latitude": 42.346456,"longitude":-71.097441},"country":"USA","phone":"(617) 267-9440″},"timeZone":{"id":"America/New_York","offset":-5,"tz":"EST"},"active":true,"season":"2023″},"springVenue":{"id": 4309,"link":"/api/v1/venues/4309″},"teamCode":"bos","fileCode":"bos","abbreviation":"BOS","teamName":"Red Sox","locationName":"Boston","firstYearOfPlay":"1901″,"league":{"id": 103,"name":"American League","link":"/api/v1/league/103″},"division":{"id": 201,"name":"American League East","link":"/api/v1/divisions/201″},"sport":{"id":1,"link":"/api/v1/sports/1″,"name":"Major League Baseball"},"shortName":"Boston","franchiseName":"Boston","clubName":"Red Sox","active":true},{"springLeague":{"id": 114,"name":"Cactus League","link":"/api/v1/league/114″,"abbreviation":"CL"},"allStarStatus":"N","id": 112,"name":"Chicago Cubs","link":"/api/v1/teams/112″,"season": 2023,"venue":{"id": 17,"name":"Wrigley Field","link":"/api/v1/venues/17″,"location":{"address1″:"1060 West Addison","city":"Chicago","state":"Illinois","stateAbbrev":"IL","postalCode":"60613-4397″,"defaultCoordinates":{"latitude": 41.948171,"longitude":-87.655503},"country":"USA","phone":"(773) 404-2827″},"timeZone":{"id":"America/Chicago","offset":-6,"tz":"CST"},"active":true,"season":"2023″},"springVenue":{"id": 4629,"link":"/api/v1/venues/4629″},"teamCode":"chn","fileCode":"chc","abbreviation":"CHC","teamName":"Cubs","locationName":"Chicago","firstYearOfPlay":"1874″,"league":{"id": 104,"name":"National League","link":"/api/v1/league/104″},"division":{"id": 205,"name":"National League Central","link":"/api/v1/divisions/205″},"sport":{"id":1,"link":"/api/v1/sports/1″,"name":"Major League Baseball"},"shortName":"Chi Cubs","franchiseName":"Chicago","clubName":"Cubs","active":true},{"springLeague":{"id": 114,"name":"Cactus League","link":"/api/v1/league/114″,"abbreviation":"CL"},"allStarStatus":"N","id": 113,"name":"Cincinnati Reds","link":"/api/v1/teams/113″,"season": 2023,"venue":{"id": 2602,"name":"Great American Ball Park","link":"/api/v1/venues/2602″,"location":{"address1″:"100 Main Street","city":"Cincinnati","state":"Ohio","stateAbbrev":"OH","postalCode":"45202-4109″,"defaultCoordinates":{"latitude": 39.097389,"longitude":-84.506611},"country":"USA","phone":"(513) 765-7000″},"timeZone":{"id":"America/New_York","offset":-5,"tz":"EST"},"active":true,"season":"2023″},"springVenue":{"id": 3834,"link":"/api/v1/venues/3834″},"teamCode":"cin","fileCode":"cin","abbreviation":"CIN","teamName":"Reds","locationName":"Cincinnati","firstYearOfPlay":"1882″,"league":{"id": 104,"name":"National League","link":"/api/v1/league/104″},"division":{"id": 205,"name":"National League Central","link":"/api/v1/divisions/205″},"sport":{"id":1,"link":"/api/v1/sports/1″,"name":"Major League Baseball"},"shortName":"Cincinnati","franchiseName":"Cincinnati","clubName":"Reds","active":true},{"springLeague":{"id": 114,"name":"Cactus League","link":"/api/v1/league/114″,"abbreviation":"CL"},"allStarStatus":"N","id": 114,"name":"Cleveland Guardians","link":"/api/v1/teams/114″,"season": 2023,"venue":{"id":5,"name":"Progressive Field","link":"/api/v1/venues/5″,"location":{"address1″:"2401 Ontario Street","city":"Cleveland","state":"Ohio","stateAbbrev":"OH","postalCode":"44115″,"defaultCoordinates":{"latitude": 41.495861,"longitude":-81.685255},"country":"USA","phone":"(216) 420-4200″},"timeZone":{"id":"America/New_York","offset":-5,"tz":"EST"},"active":true,"season":"2023″},"springVenue":{"id": 3834,"link":"/api/v1/venues/3834″},"teamCode":"cle","fileCode":"cle","abbreviation":"CLE","teamName":"Guardians","locationName":"Cleveland","firstYearOfPlay":"1901″,"league":{"id": 103,"name":"American League","link":"/api/v1/league/103″},"division":{"id": 202,"name":"American League Central","link":"/api/v1/divisions/202″},"sport":{"id":1,"link":"/api/v1/sports/1″,"name":"Major League Baseball"},"shortName":"Cleveland","franchiseName":"Cleveland","clubName":"Guardians","active":true},{"springLeague":{"id": 114,"name":"Cactus League","link":"/api/v1/league/114″,"abbreviation":"CL"},"allStarStatus":"N","id": 115,"name":"Colorado Rockies","link":"/api/v1/teams/115″,"season": 2023,"venue":{"id": 19,"name":"Coors Field","link":"/api/v1/venues/19″,"location":{"address1″:"2001 Blake Street","city":"Denver","state":"Colorado","stateAbbrev":"CO","postalCode":"80205-2000″,"defaultCoordinates":{"latitude": 39.756042,"longitude":-104.994136},"country":"USA","phone":"(303) 292-0200″},"timeZone":{"id":"America/Denver","offset":-7,"tz":"MST"},"active":true,"season":"2023″},"springVenue":{"id": 4249,"link":"/api/v1/venues/4249″},"teamCode":"col","fileCode":"col","abbreviation":"COL","teamName":"Rockies","locationName":"Denver","firstYearOfPlay":"1992″,"league":{"id": 104,"name":"National League","link":"/api/v1/league/104″},"division":{"id": 203,"name":"National League West","link":"/api/v1/divisions/203″},"sport":{"id":1,"link":"/api/v1/sports/1″,"name":"Major League Baseball"},"shortName":"Colorado","franchiseName":"Colorado","clubName":"Rockies","active":true},{"springLeague":{"id": 115,"name":"Grapefruit League","link":"/api/v1/league/115″,"abbreviation":"GL"},"allStarStatus":"N","id": 116,"name":"Detroit Tigers","link":"/api/v1/teams/116″,"season": 2023,"venue":{"id": 2394,"name":"Comerica Park","link":"/api/v1/venues/2394″,"location":{"address1″:"2100 Woodward Avenue","city":"Detroit","state":"Michigan","stateAbbrev":"MI","postalCode":"48201″,"defaultCoordinates":{"latitude": 42.3391151,"longitude":-83.048695},"country":"USA","phone":"(313) 471-2000″},"timeZone":{"id":"America/Detroit","offset":-5,"tz":"EST"},"active":true,"season":"2023″},"springVenue":{"id": 2511,"link":"/api/v1/venues/2511″},"teamCode":"det","fileCode":"det","abbreviation":"DET","teamName":"Tigers","locationName":"Detroit","firstYearOfPlay":"1901″,"league":{"id": 103,"name":"American League","link":"/api/v1/league/103″},"division":{"id": 202,"name":"American League Central","link":"/api/v1/divisions/202″},"sport":{"id":1,"link":"/api/v1/sports/1″,"name":"Major League Baseball"},"shortName":"Detroit","franchiseName":"Detroit","clubName":"Tigers","active":true},{"springLeague":{"id": 115,"name":"Grapefruit League","link":"/api/v1/league/115″,"abbreviation":"GL"},"allStarStatus":"N","id": 117,"name":"Houston Astros","link":"/api/v1/teams/117″,"season": 2023,"venue":{"id": 2392,"name":"Minute Maid Park","link":"/api/v1/venues/2392″,"location":{"address1″:"501 Crawford Street","city":"Houston","state":"Texas","stateAbbrev":"TX","postalCode":"77002″,"defaultCoordinates":{"latitude": 29.756967,"longitude":-95.355509},"country":"USA","phone":"(713) 259-8000″},"timeZone":{"id":"America/Chicago","offset":-6,"tz":"CST"},"active":true,"season":"2023″},"springVenue":{"id": 5000,"link":"/api/v1/venues/5000″},"teamCode":"hou","fileCode":"hou","abbreviation":"HOU","teamName":"Astros","locationName":"Houston","firstYearOfPlay":"1962″,"league":{"id": 103,"name":"American League","link":"/api/v1/league/103″},"division":{"id": 200,"name":"American League West","link":"/api/v1/divisions/200″},"sport":{"id":1,"link":"/api/v1/sports/1″,"name":"Major League Baseball"},"shortName":"Houston","franchiseName":"Houston","clubName":"Astros","active":true},{"springLeague":{"id": 114,"name":"Cactus League","link":"/api/v1/league/114″,"abbreviation":"CL"},"allStarStatus":"N","id": 118,"name":"Kansas City Royals","link":"/api/v1/teams/118″,"season": 2023,"venue":{"id":7,"name":"Kauffman Stadium","link":"/api/v1/venues/7″,"location":{"address1″:"One Royal Way","city":"Kansas City","state":"Missouri","stateAbbrev":"MO","postalCode":"64129″,"defaultCoordinates":{"latitude": 39.051567,"longitude":-94.480483},"country":"USA","phone":"(816) 921-8000″},"timeZone":{"id":"America/Chicago","offset":-6,"tz":"CST"},"active":true,"season":"2023″},"springVenue":{"id": 2603,"link":"/api/v1/venues/2603″},"teamCode":"kca","fileCode":"kc","abbreviation":"KC","teamName":"Royals","locationName":"Kansas City","firstYearOfPlay":"1968″,"league":{"id": 103,"name":"American League","link":"/api/v1/league/103″},"division":{"id": 202,"name":"American League Central","link":"/api/v1/divisions/202″},"sport":{"id":1,"link":"/api/v1/sports/1″,"name":"Major League Baseball"},"shortName":"Kansas City","franchiseName":"Kansas City","clubName":"Royals","active":true},{"springLeague":{"id": 114,"name":"Cactus League","link":"/api/v1/league/114″,"abbreviation":"CL"},"allStarStatus":"N","id": 119,"name":"Los Angeles Dodgers","link":"/api/v1/teams/119″,"season": 2023,"venue":{"id": 22,"name":"Dodger Stadium","link":"/api/v1/venues/22″,"location":{"address1″:"1000 Vin Scully Avenue","city":"Los Angeles","state":"California","stateAbbrev":"CA","postalCode":"90012-1199″,"defaultCoordinates":{"latitude": 34.07368,"longitude":-118.24053},"country":"USA","phone":"(323) 224-1500″},"timeZone":{"id":"America/Los_Angeles","offset":-8,"tz":"PST"},"active":true,"season":"2023″},"springVenue":{"id": 3809,"link":"/api/v1/venues/3809″},"teamCode":"lan","fileCode":"la","abbreviation":"LAD","teamName":"Dodgers","locationName":"Los Angeles","firstYearOfPlay":"1884″,"league":{"id": 104,"name":"National League","link":"/api/v1/league/104″},"division":{"id": 203,"name":"National League West","link":"/api/v1/divisions/203″},"sport":{"id":1,"link":"/api/v1/sports/1″,"name":"Major League Baseball"},"shortName":"LA Dodgers","franchiseName":"Los Angeles","clubName":"Dodgers","active":true},{"springLeague":{"id": 115,"name":"Grapefruit League","link":"/api/v1/league/115″,"abbreviation":"GL"},"allStarStatus":"N","id": 120,"name":"Washington Nationals","link":"/api/v1/teams/120″,"season": 2023,"venue":{"id": 3309,"name":"Nationals Park","link":"/api/v1/venues/3309″,"location":{"address1″:"1500 South Capitol Street, SE","city":"Washington","state":"District of Columbia","stateAbbrev":"DC","postalCode":"20003-1507″,"defaultCoordinates":{"latitude": 38.872861,"longitude":-77.007501},"country":"USA","phone":"(202) 349-0400″},"timeZone":{"id":"America/New_York","offset":-5,"tz":"EST"},"active":true,"season":"2023″},"springVenue":{"id": 5000,"link":"/api/v1/venues/5000″},"teamCode":"was","fileCode":"was","abbreviation":"WSH","teamName":"Nationals","locationName":"Washington","firstYearOfPlay":"1968″,"league":{"id": 104,"name":"National League","link":"/api/v1/league/104″},"division":{"id": 204,"name":"National League East","link":"/api/v1/divisions/204″},"sport":{"id":1,"link":"/api/v1/sports/1″,"name":"Major League Baseball"},"shortName":"Washington","franchiseName":"Washington","clubName":"Nationals","active":true},{"springLeague":{"id": 115,"name":"Grapefruit League","link":"/api/v1/league/115″,"abbreviation":"GL"},"allStarStatus":"N","id": 121,"name":"New York Mets","link":"/api/v1/teams/121″,"season": 2023,"venue":{"id": 3289,"name":"Citi Field","link":"/api/v1/venues/3289″,"location":{"address1″:"Citi Field","city":"Flushing","state":"New York","stateAbbrev":"NY","postalCode":"11368″,"defaultCoordinates":{"latitude": 40.75753012,"longitude":-73.84559155},"country":"USA","phone":"(718) 507-6387″},"timeZone":{"id":"America/New_York","offset":-5,"tz":"EST"},"active":true,"season":"2023″},"springVenue":{"id": 2856,"link":"/api/v1/venues/2856″},"teamCode":"nyn","fileCode":"nym","abbreviation":"NYM","teamName":"Mets","locationName":"Flushing","firstYearOfPlay":"1962″,"league":{"id": 104,"name":"National League","link":"/api/v1/league/104″},"division":{"id": 204,"name":"National League East","link":"/api/v1/divisions/204″},"sport":{"id":1,"link":"/api/v1/sports/1″,"name":"Major League Baseball"},"shortName":"NY Mets","franchiseName":"New York","clubName":"Mets","active":true}]},"graphqlVariables":{"getInitialData":{"contentfulLocale":"en-US","forgeLocale":"en-us","isApp":false,"preview":false,"storySlug":"jackson-merrill-raps-3-hits-in-cactus-league-opener","teamId":"mlb","teamPropertiesId":"mlb-global-properties","teamPaletteId":"mlb-base-palette"},"getRelatedContent":{"slug":"jackson-merrill-raps-3-hits-in-cactus-league-opener","options":{"locale":"en-us","teamId":"mlb","topicSlug":""}},"getTopic":{"forgeLocale":"en-us","topicSlug":""}},"headerState":{"clubId":"mlb","deviceProperties":{},"footerData":{"instanceId":"db2f8fb2-78c8-4d3c-a328-9e91c349dfee","name":"global-footer","variables":[],"menuItems":[{"itemId":"aec375d3-3afa-4491-ab28-60b736f38982″,"text":"Terms of Use","properties":{"link":"/official-information/terms-of-use","target":"_blank"},"menuItems":[]},{"itemId":"debe8dbf-de27-4eae-b7ec-adae43fc4642″,"text":"Privacy Policy","properties":{"link":"/official-information/privacy-policy"},"menuItems":[]},{"itemId":"345a1847-cac1-43a4-91bf-70c21ecee681″,"text":"Legal Notices","properties":{"link":"/official-information/legal-notices"},"menuItems":[]},{"itemId":"34014aad-1069-4bba-b22e-4b287a4f7df1″,"text":"Contact Us","properties":{"link":"/official-information/contact"},"menuItems":[]},{"itemId":"65e06970-7f8e-4328-ad82-9d90df0f3e87″,"text":"Do not Sell or Share My Personal Data","properties":{"link":"https://privacyportal.onetrust.com/webform/53a301ae-6882-46f9-af93-24f64f792aee/3251a424-8286-4725-9313-603f12c85a49″,"target":"_blank"},"menuItems":[]},{"itemId":"dd307e97-49c6-4f80-aff3-89a59696fb80″,"text":"Official Information","properties":{},"menuItems":[{"itemId":"bdf571d3-e8bb-403b-bb5f-7f28a7127c74″,"text":"Official Info","properties":{"link":"/official-information"},"menuItems":[]},{"itemId":"ecfd4d42-aa8d-4872-80a5-869c6b493018″,"text":"About MLB","properties":{"link":"/official-information/about-mlb"},"menuItems":[]},{"itemId":"bb62de22-5c84-4cab-b9fb-5429ea9d647c","text":"Team Information","properties":{"link":"/team"},"menuItems":[]},{"itemId":"7cc37e2a-667c-4405-bd1f-87ad88bc4d9e","text":"Official Rules","properties":{"link":"https://img.mlbstatic.com/mlb-images/image/upload/mlb/hhvryxqioipb87os1puw.pdf","target":"_blank"},"menuItems":[]},{"itemId":"e658056b-608b-4eee-a04a-43772f9e6bb4″,"text":"Replay Review Regulations","properties":{"link":"/glossary/rules/replay-review"},"menuItems":[]},{"itemId":"d1ffda83-f016-4ba6-8f32-7cc7ce787a9c","text":"Umpires","properties":{"link":"/official-information/umpires"},"menuItems":[]},{"itemId":"23dde9d7-6aba-4bec-a449-b1b4d5a5767c","text":"Advertise with Us","properties":{"link":"/sponsorship"},"menuItems":[]},{"itemId":"bd193214-b4a4-4c4d-965e-1a55cdc2e0fb","text":"Press Releases","properties":{"link":"/news/topic/mlb-press-releases"},"menuItems":[]}]},{"itemId":"7a60a8fc-0c3c-4c87-b04b-2b57b6c9894c","text":"Help/Contact Us","properties":{},"menuItems":[{"itemId":"efb27376-accc-4ca4-9017-c3309ee122d3″,"text":"Accessibility Information","properties":{"link":"/official-information/accessibility"},"menuItems":[]},{"itemId":"cf3490fc-f093-4457-99a7-d2bc3f4d4cef","text":"Auctions Customer Service","properties":{"link":"http://auctions.mlb.com/iSynApp/manageUserEmail!showEmailContactUsForm.action?sid=1101001″},"menuItems":[]},{"itemId":"c6867706-11b7-4634-a78e-b5d513948f43″,"text":"Harassment Policy","properties":{"link":"/official-information/harassment-policy"},"menuItems":[]},{"itemId":"0e3932c9-beec-43f2-b712-66879a51ab63″,"text":"Help/Contact Us","properties":{"link":"/official-information/contact"},"menuItems":[]},{"itemId":"6d4ebef1-3168-4b79-a237-9f36931d3a2c","text":"MLB App FAQs","properties":{"link":"/wp-content/plugins/mlb-app/faq-apple"},"menuItems":[]},{"itemId":"4b3c6ee8-d4ae-4265-a7e7-7e5bea8cde28″,"text":"MLB.com Account Information","properties":{"link":"/official-information/faqs"},"menuItems":[]},{"itemId":"4d33a7c1-38d5-4b3b-a999-53377f55738d","text":"MLB.TV Help Center","properties":{"link":"/live-stream-games/help-center"},"menuItems":[]},{"itemId":"36f01834-7979-4a42-aa12-52439c2e320b","text":"Shop Help","properties":{"link":"https://www.mlbshop.com/customer-help-desk/hd-1″},"menuItems":[]}]},{"itemId":"6ca8b189-8c54-428f-9f79-3c357ef18469″,"text":"More MLB Sites & Affiliates","properties":{},"menuItems":[{"itemId":"becc9309-94fc-491b-ad15-45f7c17f85a9″,"text":"MLB Players Alumni Association","properties":{"link":"/mlbpaa","target":""},"menuItems":[]},{"itemId":"9ff49c09-8a0d-41e6-b8b0-14f37f8e7f52″,"text":"MLB Players Association","properties":{"link":"http://www.mlbplayers.com/"},"menuItems":[]},{"itemId":"022ec2ca-bb20-4543-9cdc-95ba3a4443ca","text":"Minor League Baseball","properties":{"link":"https://www.milb.com/"},"menuItems":[]},{"itemId":"c6f9948e-3521-4788-83ed-b568f39e86aa","text":"MLB Network","properties":{"link":"https://www.mlb.com/network"},"menuItems":[]},{"itemId":"de2ea389-0a29-4600-8048-b4261916183d","text":"Baseball Assistance Team","properties":{"link":"/baseball-assistance-team"},"menuItems":[]},{"itemId":"6a47c1d6-35aa-4028-9825-7cfc34a3ea40″,"text":"Player Resource Center","properties":{"link":"/player-resource-center"},"menuItems":[]},{"itemId":"75f0b763-612d-4557-ae38-227fb5b3b7f1″,"text":"Tickets.com","properties":{"link":"http://www.tickets.com/"},"menuItems":[]},{"itemId":"cb410dd4-4ace-4b5b-be3e-4ae6d60cd20f","text":"YES Network","properties":{"link":"https://www.yesnetwork.com/"},"menuItems":[]},{"itemId":"5c8f6196-a4d5-4ed5-b830-189580691d3e","text":"Australian Baseball League","properties":{"link":"https://theabl.com.au/"},"menuItems":[]},{"itemId":"ab6fc805-0bb7-439b-8c3c-92c61b035387″,"text":"World Baseball Classic","properties":{"link":"https://www.worldbaseballclassic.com/"},"menuItems":[]},{"itemId":"e218ed4d-89f9-4f7d-87e7-c05a3559cd74″,"text":"sabr.org","properties":{"link":"http://sabr.org/"},"menuItems":[]},{"itemId":"158a95a6-bd4f-4654-b57f-465d3c356a55″,"text":"College Baseball Hall of Fame","properties":{"link":"https://www.mlb.com/college-baseball-hall-of-fame"},"menuItems":[]},{"itemId":"2e494e91-a92e-4763-b89b-7944f37b1b3f","text":"Golden Spike Award","properties":{"link":"https://www.usabaseball.com/golden-spikes-award"},"menuItems":[]},{"itemId":"ccd9020d-c619-45d2-bc1f-ef80ae2cd651″,"text":"USA Baseball","properties":{"link":"https://www.usabaseball.com"},"menuItems":[]},{"itemId":"75512a93-d52d-4d71-a6d3-70d6b44dfa0f","text":"LasMayores.com","properties":{"link":"https://www.mlb.com/es"},"menuItems":[]},{"itemId":"3b7bbad3-1ed5-468d-8703-205519315e04″,"text":"MLBCommunity.org","properties":{"link":"/mlb-community"},"menuItems":[]},{"itemId":"f8058121-3606-4ff2-be8a-d1a3d47642db","text":"AllStarGame.com","properties":{"link":"/all-star"},"menuItems":[]},{"itemId":"a624b4e5-c8d8-44b9-9084-7522ed0cee59″,"text":"MLB.com/Kids","properties":{"link":"https://www.mlb.com/fans/kids"},"menuItems":[]},{"itemId":"43c6bc47-f7d9-445a-85a1-10b3cdc02ee0″,"text":"MLB Photostore","properties":{"link":"https://photostore.mlb.com/","visible":"false"},"menuItems":[]},{"itemId":"c574a4a2-45ec-47fe-8ca3-b5b99d1cb443″,"text":"PlayBall.org","properties":{"link":"https://www.playball.org"},"menuItems":[]},{"itemId":"517cf98f-063c-486a-a725-5380e1ae063f","text":"MLB Educators","properties":{"link":"/mlb-educators"},"menuItems":[]}]},{"itemId":"e3a86593-6da0-4d00-a512-0b8c78c9b8a5″,"text":"Careers","properties":{"link":""},"menuItems":[{"itemId":"35caab61-51c7-4b17-a9b8-e9ecd201058a","text":"Careers Home","properties":{"link":"/careers/home"},"menuItems":[]}]}]},"headerData":{"instanceId":"fbde1dcd-c837-4740-991c-1087d1db26d1″,"name":"global-nav","variables":[],"menuItems":[{"itemId":"668844d6-282b-4abb-a162-f6ffff905b11″,"text":"MLB.TV","properties":{"customProperties":"align:right;","visible":"true","link":"https://www.mlb.com/tv?&affiliateId=mlbMENUtv"},"menuItems":[{"itemId":"43795314-dff1-48d7-8e49-a3d7acab203d","text":"Buy MLB.TV","properties":{"link":"/live-stream-games/subscribe?&affiliateId=mlbMENUtv","visible":"true"},"menuItems":[]},{"itemId":"5b4ab21b-1d63-4eff-85f9-51075da5915a","text":"Buy At Bat","properties":{"link":"/live-stream-games/subscribe/at-bat?&affiliateId=mlbMENUtv","visible":"true"},"menuItems":[]},{"itemId":"ef0347a1-642b-4d79-b078-7a19173362e1″,"text":"MLB.TV ST Schedule","properties":{"link":"https://www.mlb.com/live-stream-games/spring-training?&affiliateId=mlbMENUtv"},"menuItems":[]},{"itemId":"5e33e51f-2f87-4d40-bf50-cc1704688344″,"text":"Watch & Listen","properties":{"link":"/live-stream-games?&affiliateID=mlbMENUtv","visible":"true"},"menuItems":[]},{"itemId":"c04b122c-66ec-4bfa-9e26-2e7f75bc915c","text":"Help Center","properties":{"link":"/live-stream-games/help-center?&affiliateID=mlbMENUtv","visible":"true"},"menuItems":[]}]},{"itemId":"tickets","text":"Tickets","properties":{"link":"/tickets","customProperties":"align:right;"},"menuItems":[{"itemId":"b2956670-29de-4eb5-94db-7cbeecfb987f","text":"All-Star Tickets","properties":{"link":"https://www.mlb.com/all-star/tickets?top-nav-dropdown","visible":"false"},"menuItems":[]},{"itemId":"020f5910-a69a-443a-b5a3-37b7664d8a4f","text":"Spring Training","properties":{"link":"/tickets/spring-training","visible":"true","customProperties":"expires: 1680051600;"},"menuItems":[]},{"itemId":"524505d6-bf61-4819-8197-f62bc71fd518″,"text":"Postseason Tickets","properties":{"link":"/tickets/postseason","visible":"false"},"menuItems":[]},{"itemId":"005453a9-72bb-49f7-9dd7-f4f6d70c6a6a","text":"SeatGeek","properties":{"link":"https://seatgeek.com/mlb-tickets?aid=15994&pid=integration&rid=1&utm_medium=partnership&utm_source=mlb_sponsorship&utm_campaign=integration","target":"_blank","visible":"false"},"menuItems":[]}]},{"itemId":"6bfaf88e-891c-4e05-a935-8a32bd23086a","text":"Shop","properties":{"link":"https://www.mlbshop.com/?_s=bm-mlbcom-hp","customProperties":"align:right;","icon":"shopping-cart"},"menuItems":[{"itemId":"91dcfa1d-f4de-4bf9-93f8-8f91f4069272″,"text":"MLB Online Shop","properties":{"link":"https://www.mlbshop.com/?_s=bm-mlbcom-hp","customProperties":""},"menuItems":[]},{"itemId":"d7b3c8e0-42c4-45c5-8278-c51adb21b47f","text":"Auction","properties":{"link":"https://auctions.mlb.com/iSynApp/showHomePage.action?sid=1101001&isynsharedsession=9mislq-18JnZhOEp-FeGzvUB3G6zxwkeKqwX99MKAttEdaSACl02r4aCDzYhNvUm","visible":"true"},"menuItems":[]},{"itemId":"c69e35fc-900e-4fcc-9348-085aa0febeab","text":"Gift Cards","properties":{"link":"https://www.mlbshop.com/gift-cards/x-462351+z-94899005-3509039474?_s=bm-mlbcom-Home","customProperties":""},"menuItems":[]},{"itemId":"7423a9ca-3a6f-42fe-8d6e-9459bed284c7″,"text":"MLB NYC Flagship Store","properties":{"link":"/shop/nyc-retail-store"},"menuItems":[]},{"itemId":"44958e84-599e-44b1-96b4-44f38a477942″,"text":"European Shop","properties":{"link":"http://www.mlbshopeurope.com/stores/mlb/en?portal=MLTS66FS&CMP=PSC-MLTS66FS","customProperties":""},"menuItems":[]},{"itemId":"51d3278e-90fd-4462-aec0-7cfd8de1cb79″,"text":"Photo Store","properties":{"link":"https://photostore.mlb.com/","visible":"true"},"menuItems":[]}]},{"itemId":"5052bac6-3f1d-4847-8739-42021d7cfc2d","text":"News","properties":{"link":"/news","customProperties":"amp:true;mobile:true"},"menuItems":[{"itemId":"d08f0874-ecb6-4378-93c6-be05b4397c21″,"text":"Rule Changes","properties":{"link":"https://www.mlb.com/rule-changes-2023″},"menuItems":[]},{"itemId":"82d45c9a-d055-4ab4-b785-576d982a2077″,"text":"Probable Pitchers","properties":{"link":"/probable-pitchers/","visible":"true","enabled":"true"},"menuItems":[]},{"itemId":"29c52020-6ed2-45f6-8f8b-6d7e909a68c1″,"text":"Starting Lineups","properties":{"link":"/starting-lineups"},"menuItems":[]},{"itemId":"28522a27-ab22-43ed-84b4-1b4760c39535″,"text":"Transactions","properties":{"link":"https://www.mlb.com/transactions"},"menuItems":[]},{"itemId":"28a2e573-86ba-4cdc-a924-86d3b6500979″,"text":"Injury Report","properties":{"link":"/injury-report","visible":"true"},"menuItems":[]},{"itemId":"3f97e5c6-cd8f-4c42-9be1-b816ea9f47b1″,"text":"World Baseball Classic","properties":{"link":"/world-baseball-classic"},"menuItems":[]},{"itemId":"c1ac7886-1d18-4ad8-9fc4-326ab4753144″,"text":"MLB Draft","properties":{"link":"/draft/2023″,"visible":"true"},"menuItems":[]},{"itemId":"7e316d55-5379-4151-a0e5-828b6b4f8ba8″,"text":"All-Star Game","properties":{"link":"/all-star/","visible":"true"},"menuItems":[]},{"itemId":"de347a3e-0811-49db-aca7-d56d79b69cde","text":"MLB Pipeline","properties":{"link":"https://www.mlb.com/pipeline"},"menuItems":[]},{"itemId":"6efef6dd-bb02-4811-85f8-c8088d743fae","text":"Postseason History","properties":{"link":"/postseason/history"},"menuItems":[]},{"itemId":"6ee1c331-faa0-4865-a062-1c98a2f67c0d","text":"Great Stories","properties":{"link":"/news/topic/longform","visible":"false"},"menuItems":[]}]},{"itemId":"ed72bef5-d993-4ffe-91d2-15abf6218c12″,"text":"Watch","properties":{"link":"/tv?&affiliateId=mlbMENU"},"menuItems":[{"itemId":"d492eeb7-757f-4600-b3b3-77882293b208″,"text":"Video","properties":{},"menuItems":[{"itemId":"5031c87a-7b97-4db0-a447-d29e556f380c","text":"Film Room Hub","properties":{"link":"/video"},"menuItems":[]},{"itemId":"49538483-21da-4efb-9624-3b27c74823ad","text":"Statcast","properties":{"link":"/video/topic/statcast"},"menuItems":[]},{"itemId":"5dbfda08-1915-42bc-a899-61f8906ede30″,"text":"MLB Network","properties":{"link":"/network"},"menuItems":[]},{"itemId":"168e1c3a-56a8-49f4-8800-ef5ff3024c7d","text":"MLB Originals","properties":{"link":"/fans/mlb-originals"},"menuItems":[]},{"itemId":"527369c6-59ed-47ec-b41f-2b71444bfeee","text":"Podcasts","properties":{"link":"/fans/podcasts"},"menuItems":[]}]},{"itemId":"5dd37289-4d79-4b66-8359-1c5d0954f7f1″,"text":"MLB.TV","properties":{},"menuItems":[{"itemId":"6c2eca19-80b0-45e0-a481-53d6200992e3″,"text":"Watch & Listen Archives","properties":{"link":"/live-stream-games?&affiliateID=mlbMENU","visible":"false"},"menuItems":[]},{"itemId":"1ff93fa1-3ae4-40e3-b263-f34d1e3a70e1″,"text":"Buy Offseason","properties":{"link":"/live-stream-games/subscribe?&affiliateId=mlbMENU","visible":"false"},"menuItems":[]},{"itemId":"5df3aa62-4f5b-479c-9669-4736862d0100″,"text":"Buy MLB Audio","properties":{"link":"/live-stream-games/subscribe/mlb-audio?&affiliateId=mlbMENU","visible":"false"},"menuItems":[]},{"itemId":"6410ddb0-717a-4b20-b24e-7ca0053c4f6c","text":"Buy MLB.TV","properties":{"link":"/live-stream-games/subscribe?&affiliateId=mlbMENU","visible":"true"},"menuItems":[]},{"itemId":"970ab45a-756b-41ab-a415-7ca4763ec42e","text":"Buy At Bat","properties":{"link":"/live-stream-games/subscribe/at-bat?&affiliateId=mlbMENU","visible":"true"},"menuItems":[]},{"itemId":"ef4d2e49-aa20-4201-9d5f-ad47b709152f","text":"MLB.TV ST Schedule","properties":{"link":"https://www.mlb.com/live-stream-games/spring-training?&affiliateId=mlbMENU"},"menuItems":[]},{"itemId":"eb7e4c9b-2723-4af8-9e4c-c4f52be5efb2″,"text":"Watch & Listen","properties":{"link":"/live-stream-games?&affiliateID=mlbMENU","visible":"true"},"menuItems":[]},{"itemId":"18ca0078-fb25-40f0-98b9-05c2a605965b","text":"Help Center","properties":{"link":"/live-stream-games/help-center?&affiliateID=mlbMENU"},"menuItems":[]}]}]},{"itemId":"7c68f445-5095-46cc-bab3-73af6c921597″,"text":"Scores","properties":{"link":"/scores","customProperties":"mobile:true;amp:true;","visible":"true"},"menuItems":[]},{"itemId":"248fea7e-1d19-452a-bb5c-999e1a09b7cd","text":"Schedule","properties":{"link":"/schedule","customProperties":"amp:true;mobile:true;"},"menuItems":[{"itemId":"d92068f1-fb82-4b03-ae27-10f3e812b6fa","text":"2023 Regular Season","properties":{"link":"/schedule/2023-03-30″},"menuItems":[]},{"itemId":"d50ca7f4-b653-4c3a-a63b-c653bff0bbdc","text":"2023 Spring Training","properties":{"link":"/schedule/"},"menuItems":[]},{"itemId":"f4010b7a-902c-41e0-b405-e0fa695b5c64″,"text":"2022 Regular Season","properties":{"link":"/schedule/2022-04-07″},"menuItems":[]},{"itemId":"2755030c-3503-4089-b6c2-b8e982459945″,"text":"2022 Postseason","properties":{"link":"/postseason"},"menuItems":[]},{"itemId":"94c9d7e4-3477-4217-87f3-008d2290b9ee","text":"Important Dates","properties":{"link":"/schedule/events#important-dates"},"menuItems":[]},{"itemId":"3747c1bc-9b3d-43f5-bd04-d1274c59c02a","text":"Team by Team Schedule","properties":{"link":"/schedule/team-by-team"},"menuItems":[]},{"itemId":"e75ecc62-7e72-4b53-9705-a23e2b511f83″,"text":"National Broadcasts","properties":{"link":"https://www.mlb.com/live-stream-games/national-broadcast-schedule","visible":"true"},"menuItems":[]}]},{"itemId":"9efaf5e3-6a93-4e4f-b8af-1219110ecb30″,"text":"Stats","properties":{"link":"/stats","customProperties":"mobile:true;amp:true;"},"menuItems":[{"itemId":"41566816-1cb8-421f-9a4a-9ccdefa7ed69″,"text":"Statcast Leaders","properties":{"link":"https://baseballsavant.mlb.com/statcast_leaderboard"},"menuItems":[]},{"itemId":"2d0a2684-64c6-4d9f-87a1-a7cf9f661e2f","text":"Baseball Savant","properties":{"link":"https://baseballsavant.mlb.com/"},"menuItems":[]},{"itemId":"b9d0ae31-f31d-449b-82fb-5a77f59293ba","text":"Top Prospect Stats","properties":{"link":"/prospects/stats/top-prospects?type=all&minPA=1″},"menuItems":[]}]},{"itemId":"6af88ec1-9bfe-4494-abc0-898dc919a081″,"text":"Standings","properties":{"link":"/standings","customProperties":"amp:true;"},"menuItems":[]},{"itemId":"15179b67-af8e-42a1-964c-45944e1ab986″,"text":"Youth","properties":{"link":"/youth-baseball-softball"},"menuItems":[{"itemId":"0a04e27f-bcb1-4901-acc0-a14e9ebc5852″,"text":"Play Ball","properties":{"link":"/play-ball"},"menuItems":[]},{"itemId":"f989fcab-01fa-4d66-8e11-6640be070816″,"text":"Youth Baseball & Softball","properties":{"link":"/youth-baseball-softball"},"menuItems":[]}]},{"itemId":"8c842eeb-dedd-430c-a452-57a740d5c3df","text":"Players","properties":{"link":"/players","customProperties":"","icon":"group","visible":"true"},"menuItems":[{"itemId":"2983d4a7-0410-41fe-8b08-35c866b373d5″,"text":"Prospect Rankings","properties":{"link":"/prospects"},"menuItems":[]},{"itemId":"1f929714-240b-4834-b859-8066a592fa8e","text":"Depth Charts","properties":{"link":"/team/roster/depth-chart"},"menuItems":[]},{"itemId":"a07b01b6-397e-450e-bd8d-7e00c6dd2a80″,"text":"MLB Players Association","properties":{"link":"https://www.mlbplayers.com"},"menuItems":[]},{"itemId":"3de86763-c530-400b-a7de-1761c927d7bc","text":"Negro Leagues","properties":{"link":"/history/negro-leagues"},"menuItems":[]}]},{"itemId":"98430c25-7924-4112-a70f-0b32fd31594f","text":"Teams","properties":{"link":"/team","customProperties":"amp:true;module:teammodule;align:right;"},"menuItems":[{"itemId":"9191834c-54c4-40a7-8aac-9745d3666084″,"text":"Team Module","properties":{"customProperties":"module:teammodule;"},"menuItems":[]}]},{"itemId":"397b9e10-6d65-4fc0-bbe6-8d07f5e8d3a8″,"text":"ES","properties":{"link":"/es","customProperties":"align:right;lang:es;label:Español","toolTip":"Español"},"menuItems":[{"itemId":"ceb83c80-eaf2-4dd4-bdc6-e23b1e11ae60″,"text":"日本語","properties":{"link":"http://www.mlb.jp/","customProperties":"lang:ja","visible":"false"},"menuItems":[]},{"itemId":"27ac6728-00c1-4965-963b-05d33268fb50″,"text":"한국어","properties":{"link":"https://www.mlbkor.com/","customProperties":"lang:ko","visible":"false"},"menuItems":[]}]}]},"locale":"en","reqPath":"/news/jackson-merrill-raps-3-hits-in-cactus-league-opener","sharedNav":{"instanceId":"6c265854-d856-4f92-aea1-07dfe5cda020″,"name":"shared-nav","variables":[],"menuItems":[{"itemId":"93b3e9b2-65a9-4585-9185-03e255cb523c","text":"MLB.TV","properties":{"link":"https://www.mlb.com/tv?&affiliateId=clubMENU","icon":"watch","customProperties":"align:right;"},"menuItems":[{"itemId":"2d8d6ad8-dc2a-4971-9b12-f1853530c5d3″,"text":"Buy MLB.TV","properties":{"link":"https://www.mlb.com/live-stream-games/subscribe?&affiliateId=clubMENU"},"menuItems":[]},{"itemId":"38c2991b-6331-469b-bce7-c53ab3267bc6″,"text":"Buy At Bat","properties":{"link":"/live-stream-games/subscribe/mlb-audio?&affiliateId=clubMENU"},"menuItems":[]},{"itemId":"9d00394b-a033-4e99-8521-03642810c559″,"text":"MLB.TV ST Schedule","properties":{"link":"https://www.mlb.com/live-stream-games/spring-training?&affiliateId=clubMENU"},"menuItems":[]},{"itemId":"d54a2b21-9db9-4252-9ebe-e3a4b2a3cf83″,"text":"Watch & Listen","properties":{"link":"https://www.mlb.com/live-stream-games?&affiliateId=clubMENU"},"menuItems":[]},{"itemId":"2f433cfb-699a-43bb-ab54-d3b4a7269d8e","text":"Watch MLB.TV Docs & Features","properties":{"link":"https://www.mlb.com/tv/featured?&affiliateId=clubMENU"},"menuItems":[]},{"itemId":"6254640c-2069-4447-822f-084d0a38f161″,"text":"MLB.TV Help Center","properties":{"link":"https://www.mlb.com/live-stream-games/help-center?&affiliateId=clubMENU"},"menuItems":[]}]},{"itemId":"d54d0be0-f610-4f8b-90ac-c246c361e2e2″,"text":"Fantasy","properties":{"link":"https://www.mlb.com/fantasy","customProperties":"","visible":"true"},"menuItems":[{"itemId":"5ec4bde4-6bc1-412b-a92b-6b7cb3b2f07c","text":"Yahoo Fantasy Baseball","properties":{"link":"http://yhoo.it/3aK5QQw","visible":"false","target":"_blank"},"menuItems":[]},{"itemId":"b2a63b51-03fc-423d-971e-1e566f6008f4″,"text":"MLB Rally","properties":{"link":"https://www.mlb.com/apps/rally","visible":"false"},"menuItems":[]},{"itemId":"f6929b88-632d-4a6f-ba73-8a64fccba1b0″,"text":"MLB Quick Pick","properties":{"link":"https://www.mlb.com/apps/rally/quickpick","visible":"false"},"menuItems":[]},{"itemId":"0ebe9e5d-3fc7-48d2-acb1-c33eb931b911″,"text":"MLB Beat the Streak","properties":{"link":"https://www.mlb.com/apps/beat-the-streak","visible":"false"},"menuItems":[]},{"itemId":"086bd307-a929-4414-9dd7-09bdac8d3f2e","text":"MLB MOONBLASTS Pick 'Em","properties":{"link":"https://www.mlb.com/sponsorship/ftx-moonblasts-pick-em","customProperties":"expires: 1627754400″,"visible":"false"},"menuItems":[]},{"itemId":"14aa1d4b-0193-4670-a1fc-b4386d4977e8″,"text":"The Vault","properties":{"link":"https://www.mlb.com/the-vault","visible":"false"},"menuItems":[]},{"itemId":"4e0abdd4-8a0f-4bc5-838f-91dd2796041e","text":"MLB Home Run Derby","properties":{"link":"https://www.mlb.com/fantasy/home-run-derby"},"menuItems":[]},{"itemId":"7d8dfda7-345a-46fa-82dc-105068ba223e","text":"Season Pick 'Em","properties":{"link":"https://www.mlb.com/season-pick-em?affiliateId=spe-fantasynav-club-2021″,"visible":"false"},"menuItems":[]},{"itemId":"6eda396d-199b-4772-b3c9-c0b032513b6c","text":"MLB Pre-Pick (AUS)","properties":{"customProperties":"","link":"https://www.mlb.com/pre-pick/tab","visible":"false"},"menuItems":[]},{"itemId":"9f1ff266-0ed8-4adb-ba77-428d1871b237″,"text":"Closer Report","properties":{"link":"https://www.mlb.com/closer-report","visible":"false"},"menuItems":[]},{"itemId":"4c4f57bd-e31a-46c9-8f73-0fa2227451d3″,"text":"Prospect Rankings","properties":{"link":"https://www.mlb.com/prospects"},"menuItems":[]},{"itemId":"1ebe4dc3-2c6a-469f-be59-474fe14dbbd7″,"text":"MLB Champions","properties":{"link":"https://www.mlbc.app/?ref=mlbcom","target":"_blank","visible":"false"},"menuItems":[]}]},{"itemId":"d1f61f89-9fd0-4f03-be17-2c5e128711a4″,"text":"Apps","properties":{"link":"/wp-content/plugins"},"menuItems":[{"itemId":"83ac2ddf-414b-47d1-afec-ffacd068ab57″,"text":"MLB","properties":{"link":"/wp-content/plugins/mlb-app"},"menuItems":[]},{"itemId":"83dbba73-02ac-4ba0-bebf-2c62ef04c19e","text":"MLB Rally","properties":{"link":"https://www.mlb.com/apps/rally","visible":"false"},"menuItems":[]},{"itemId":"26fda476-348c-4f42-aa7c-92d1f9b1bf5c","text":"MLB Beat the Streak","properties":{"link":"https://www.mlb.com/apps/beat-the-streak","visible":"false"},"menuItems":[]},{"itemId":"e09e6978-fcf7-4c2f-8387-59d83b7be38e","text":"MLB Ballpark","properties":{"link":"/wp-content/plugins/ballpark"},"menuItems":[]},{"itemId":"86320a6b-11a1-4312-8eeb-a6c44f293f6c","text":"MLB Play","properties":{"link":"https://www.mlb.com/play"},"menuItems":[]},{"itemId":"5e7b8019-9484-4872-abd7-8b963cd5969e","text":"MiLB First Pitch","properties":{"link":"https://www.milb.com/about/first-pitch"},"menuItems":[]},{"itemId":"4fd8c1f8-a753-4501-916c-663390f1a566″,"text":"MLB Home Run Derby","properties":{"link":"https://www.mlb.com/fantasy/home-run-derby"},"menuItems":[]},{"itemId":"9d8dfe8b-be1a-4ebf-9509-6bd0165a868e","text":"MLB FAQs","properties":{"link":"/wp-content/plugins/mlb-app/faq-apple"},"menuItems":[]},{"itemId":"df4e8527-e357-4272-bcf7-61876ed9455d","text":"MLB Ballpark FAQs","properties":{"link":"/wp-content/plugins/ballpark/faq-apple","visible":"true"},"menuItems":[]},{"itemId":"0ee38329-4c3c-48f5-86c7-04a58c24c006″,"text":"MLB Play FAQs","properties":{"link":"https://www.mlb.com/help/play/frequently-asked-questions"},"menuItems":[]},{"itemId":"c2943c65-a843-437a-9ef4-4ccfe5be088f","text":"MLB Rally FAQs","properties":{"link":"https://www.mlb.com/apps/rally/faq-apple","visible":"false"},"menuItems":[]}]}]},"styleProps":{},"teamNameSlug":"","teamsData":[{"springLeague":{"id": 114,"name":"Cactus League","link":"/api/v1/league/114″,"abbreviation":"CL"},"allStarStatus":"N","id": 133,"name":"Oakland Athletics","link":"/api/v1/teams/133″,"season": 2023,"venue":{"id": 10,"name":"Oakland Coliseum","link":"/api/v1/venues/10″,"location":{"address1″:"7000 Coliseum Way","city":"Oakland","state":"California","stateAbbrev":"CA","postalCode":"94621″,"defaultCoordinates":{"latitude": 37.751511,"longitude":-122.200698},"country":"USA","phone":"(510) 638-4900″},"timeZone":{"id":"America/Los_Angeles","offset":-8,"tz":"PST"},"active":true,"season":"2023″},"springVenue":{"id": 2507,"link":"/api/v1/venues/2507″},"teamCode":"oak","fileCode":"oak","abbreviation":"OAK","teamName":"Athletics","locationName":"Oakland","firstYearOfPlay":"1901″,"league":{"id": 103,"name":"American League","link":"/api/v1/league/103″},"division":{"id": 200,"name":"American League West","link":"/api/v1/divisions/200″},"sport":{"id":1,"link":"/api/v1/sports/1″,"name":"Major League Baseball"},"shortName":"Oakland","franchiseName":"Oakland","clubName":"Athletics","active":true},{"springLeague":{"id": 115,"name":"Grapefruit League","link":"/api/v1/league/115″,"abbreviation":"GL"},"allStarStatus":"N","id": 134,"name":"Pittsburgh Pirates","link":"/api/v1/teams/134″,"season": 2023,"venue":{"id": 31,"name":"PNC Park","link":"/api/v1/venues/31″,"location":{"address1″:"115 Federal Street","city":"Pittsburgh","state":"Pennsylvania","stateAbbrev":"PA","postalCode":"15212″,"defaultCoordinates":{"latitude": 40.446904,"longitude":-80.005753},"country":"USA","phone":"(412) 323-5000″},"timeZone":{"id":"America/New_York","offset":-5,"tz":"EST"},"active":true,"season":"2023″},"springVenue":{"id": 2526,"link":"/api/v1/venues/2526″},"teamCode":"pit","fileCode":"pit","abbreviation":"PIT","teamName":"Pirates","locationName":"Pittsburgh","firstYearOfPlay":"1882″,"league":{"id": 104,"name":"National League","link":"/api/v1/league/104″},"division":{"id": 205,"name":"National League Central","link":"/api/v1/divisions/205″},"sport":{"id":1,"link":"/api/v1/sports/1″,"name":"Major League Baseball"},"shortName":"Pittsburgh","franchiseName":"Pittsburgh","clubName":"Pirates","active":true},{"springLeague":{"id": 114,"name":"Cactus League","link":"/api/v1/league/114″,"abbreviation":"CL"},"allStarStatus":"N","id": 135,"name":"San Diego Padres","link":"/api/v1/teams/135″,"season": 2023,"venue":{"id": 2680,"name":"Petco Park","link":"/api/v1/venues/2680″,"location":{"address1″:"100 Park Boulevard","city":"San Diego","state":"California","stateAbbrev":"CA","postalCode":"92101″,"defaultCoordinates":{"latitude": 32.707861,"longitude":-117.157278},"country":"USA","phone":"(619) 795-5000″},"timeZone":{"id":"America/Los_Angeles","offset":-8,"tz":"PST"},"active":true,"season":"2023″},"springVenue":{"id": 2530,"link":"/api/v1/venues/2530″},"teamCode":"sdn","fileCode":"sd","abbreviation":"SD","teamName":"Padres","locationName":"San Diego","firstYearOfPlay":"1968″,"league":{"id": 104,"name":"National League","link":"/api/v1/league/104″},"division":{"id": 203,"name":"National League West","link":"/api/v1/divisions/203″},"sport":{"id":1,"link":"/api/v1/sports/1″,"name":"Major League Baseball"},"shortName":"San Diego","franchiseName":"San Diego","clubName":"Padres","active":true},{"springLeague":{"id": 114,"name":"Cactus League","link":"/api/v1/league/114″,"abbreviation":"CL"},"allStarStatus":"N","id": 136,"name":"Seattle Mariners","link":"/api/v1/teams/136″,"season": 2023,"venue":{"id": 680,"name":"T-Mobile Park","link":"/api/v1/venues/680″,"location":{"address1″:"P.O. Box 4100″,"city":"Seattle","state":"Washington","stateAbbrev":"WA","postalCode":"98104″,"defaultCoordinates":{"latitude": 47.591333,"longitude":-122.33251},"country":"USA","phone":"(206) 346-4000″},"timeZone":{"id":"America/Los_Angeles","offset":-8,"tz":"PST"},"active":true,"season":"2023″},"springVenue":{"id": 2530,"link":"/api/v1/venues/2530″},"teamCode":"sea","fileCode":"sea","abbreviation":"SEA","teamName":"Mariners","locationName":"Seattle","firstYearOfPlay":"1977″,"league":{"id": 103,"name":"American League","link":"/api/v1/league/103″},"division":{"id": 200,"name":"American League West","link":"/api/v1/divisions/200″},"sport":{"id":1,"link":"/api/v1/sports/1″,"name":"Major League Baseball"},"shortName":"Seattle","franchiseName":"Seattle","clubName":"Mariners","active":true},{"springLeague":{"id": 114,"name":"Cactus League","link":"/api/v1/league/114″,"abbreviation":"CL"},"allStarStatus":"N","id": 137,"name":"San Francisco Giants","link":"/api/v1/teams/137″,"season": 2023,"venue":{"id": 2395,"name":"Oracle Park","link":"/api/v1/venues/2395″,"location":{"address1″:"24 Willie Mays Plaza","city":"San Francisco","state":"California","stateAbbrev":"CA","postalCode":"94107″,"defaultCoordinates":{"latitude": 37.778383,"longitude":-122.389448},"country":"USA","phone":"(415) 972-2000″},"timeZone":{"id":"America/Los_Angeles","offset":-8,"tz":"PST"},"active":true,"season":"2023″},"springVenue":{"id": 2532,"link":"/api/v1/venues/2532″},"teamCode":"sfn","fileCode":"sf","abbreviation":"SF","teamName":"Giants","locationName":"San Francisco","firstYearOfPlay":"1883″,"league":{"id": 104,"name":"National League","link":"/api/v1/league/104″},"division":{"id": 203,"name":"National League West","link":"/api/v1/divisions/203″},"sport":{"id":1,"link":"/api/v1/sports/1″,"name":"Major League Baseball"},"shortName":"San Francisco","franchiseName":"San Francisco","clubName":"Giants","active":true},{"springLeague":{"id": 115,"name":"Grapefruit League","link":"/api/v1/league/115″,"abbreviation":"GL"},"allStarStatus":"N","id": 138,"name":"St. Louis Cardinals","link":"/api/v1/teams/138″,"season": 2023,"venue":{"id": 2889,"name":"Busch Stadium","link":"/api/v1/venues/2889″,"location":{"address1″:"700 Clark Street","city":"St. Louis","state":"Missouri","stateAbbrev":"MO","postalCode":"63102″,"defaultCoordinates":{"latitude": 38.62256667,"longitude":-90.19286667},"country":"USA","phone":"(314) 345-9600″},"timeZone":{"id":"America/Chicago","offset":-6,"tz":"CST"},"active":true,"season":"2023″},"springVenue":{"id": 2520,"link":"/api/v1/venues/2520″},"teamCode":"sln","fileCode":"stl","abbreviation":"STL","teamName":"Cardinals","locationName":"St. Louis","firstYearOfPlay":"1892″,"league":{"id": 104,"name":"National League","link":"/api/v1/league/104″},"division":{"id": 205,"name":"National League Central","link":"/api/v1/divisions/205″},"sport":{"id":1,"link":"/api/v1/sports/1″,"name":"Major League Baseball"},"shortName":"St. Louis","franchiseName":"St. Louis","clubName":"Cardinals","active":true},{"springLeague":{"id": 115,"name":"Grapefruit League","link":"/api/v1/league/115″,"abbreviation":"GL"},"allStarStatus":"N","id": 139,"name":"Tampa Bay Rays","link":"/api/v1/teams/139″,"season": 2023,"venue":{"id": 12,"name":"Tropicana Field","link":"/api/v1/venues/12″,"location":{"address1″:"One Tropicana Drive","city":"St. Petersburg","state":"Florida","stateAbbrev":"FL","postalCode":"33705″,"defaultCoordinates":{"latitude": 27.767778,"longitude":-82.6525},"country":"USA","phone":"(727) 825-3137″},"timeZone":{"id":"America/New_York","offset":-5,"tz":"EST"},"active":true,"season":"2023″},"springVenue":{"id": 2534,"link":"/api/v1/venues/2534″},"teamCode":"tba","fileCode":"tb","abbreviation":"TB","teamName":"Rays","locationName":"St. Petersburg","firstYearOfPlay":"1996″,"league":{"id": 103,"name":"American League","link":"/api/v1/league/103″},"division":{"id": 201,"name":"American League East","link":"/api/v1/divisions/201″},"sport":{"id":1,"link":"/api/v1/sports/1″,"name":"Major League Baseball"},"shortName":"Tampa Bay","franchiseName":"Tampa Bay","clubName":"Rays","active":true},{"springLeague":{"id": 114,"name":"Cactus League","link":"/api/v1/league/114″,"abbreviation":"CL"},"allStarStatus":"N","id": 140,"name":"Texas Rangers","link":"/api/v1/teams/140″,"season": 2023,"venue":{"id": 5325,"name":"Globe Life Field","link":"/api/v1/venues/5325″,"location":{"address1″:"734 Stadium Drive","city":"Arlington","state":"Texas","stateAbbrev":"TX","postalCode":"76011″,"defaultCoordinates":{"latitude": 32.747299,"longitude":-97.081818},"country":"USA","phone":"(817) 533-1972″},"timeZone":{"id":"America/Chicago","offset":-6,"tz":"CST"},"active":true,"season":"2023″},"springVenue":{"id": 2603,"link":"/api/v1/venues/2603″},"teamCode":"tex","fileCode":"tex","abbreviation":"TEX","teamName":"Rangers","locationName":"Arlington","firstYearOfPlay":"1961″,"league":{"id": 103,"name":"American League","link":"/api/v1/league/103″},"division":{"id": 200,"name":"American League West","link":"/api/v1/divisions/200″},"sport":{"id":1,"link":"/api/v1/sports/1″,"name":"Major League Baseball"},"shortName":"Texas","franchiseName":"Texas","clubName":"Rangers","active":true},{"springLeague":{"id": 115,"name":"Grapefruit League","link":"/api/v1/league/115″,"abbreviation":"GL"},"allStarStatus":"N","id": 141,"name":"Toronto Blue Jays","link":"/api/v1/teams/141″,"season": 2023,"venue":{"id": 14,"name":"Rogers Centre","link":"/api/v1/venues/14″,"location":{"address1″:"1 Blue Jays Way, Suite 3200″,"city":"Toronto","state":"Ontario","stateAbbrev":"ON","postalCode":"M5V1J1″,"defaultCoordinates":{"latitude": 43.64155,"longitude":-79.38915},"country":"Canada","phone":"(416) 341-1000″},"timeZone":{"id":"America/Toronto","offset":-5,"tz":"EST"},"active":true,"season":"2023″},"springVenue":{"id": 2536,"link":"/api/v1/venues/2536″},"teamCode":"tor","fileCode":"tor","abbreviation":"TOR","teamName":"Blue Jays","locationName":"Toronto","firstYearOfPlay":"1977″,"league":{"id": 103,"name":"American League","link":"/api/v1/league/103″},"division":{"id": 201,"name":"American League East","link":"/api/v1/divisions/201″},"sport":{"id":1,"link":"/api/v1/sports/1″,"name":"Major League Baseball"},"shortName":"Toronto","franchiseName":"Toronto","clubName":"Blue Jays","active":true},{"springLeague":{"id": 115,"name":"Grapefruit League","link":"/api/v1/league/115″,"abbreviation":"GL"},"allStarStatus":"N","id": 142,"name":"Minnesota Twins","link":"/api/v1/teams/142″,"season": 2023,"venue":{"id": 3312,"name":"Target Field","link":"/api/v1/venues/3312″,"location":{"address1″:"1 Twins Way","city":"Minneapolis","state":"Minnesota","stateAbbrev":"MN","postalCode":"55403″,"defaultCoordinates":{"latitude": 44.981829,"longitude":-93.277891},"country":"USA","phone":"(612) 659-3400″},"timeZone":{"id":"America/Chicago","offset":-6,"tz":"CST"},"active":true,"season":"2023″},"springVenue":{"id": 2862,"link":"/api/v1/venues/2862″},"teamCode":"min","fileCode":"min","abbreviation":"MIN","teamName":"Twins","locationName":"Minneapolis","firstYearOfPlay":"1901″,"league":{"id": 103,"name":"American League","link":"/api/v1/league/103″},"division":{"id": 202,"name":"American League Central","link":"/api/v1/divisions/202″},"sport":{"id":1,"link":"/api/v1/sports/1″,"name":"Major League Baseball"},"shortName":"Minnesota","franchiseName":"Minnesota","clubName":"Twins","active":true},{"springLeague":{"id": 115,"name":"Grapefruit League","link":"/api/v1/league/115″,"abbreviation":"GL"},"allStarStatus":"N","id": 143,"name":"Philadelphia Phillies","link":"/api/v1/teams/143″,"season": 2023,"venue":{"id": 2681,"name":"Citizens Bank Park","link":"/api/v1/venues/2681″,"location":{"address1″:"One Citizens Bank Way","city":"Philadelphia","state":"Pennsylvania","stateAbbrev":"PA","postalCode":"19148″,"defaultCoordinates":{"latitude": 39.90539086,"longitude":-75.16716957},"country":"USA","phone":"(215) 463-6000″},"timeZone":{"id":"America/New_York","offset":-5,"tz":"EST"},"active":true,"season":"2023″},"springVenue":{"id": 2700,"link":"/api/v1/venues/2700″},"teamCode":"phi","fileCode":"phi","abbreviation":"PHI","teamName":"Phillies","locationName":"Philadelphia","firstYearOfPlay":"1883″,"league":{"id": 104,"name":"National League","link":"/api/v1/league/104″},"division":{"id": 204,"name":"National League East","link":"/api/v1/divisions/204″},"sport":{"id":1,"link":"/api/v1/sports/1″,"name":"Major League Baseball"},"shortName":"Philadelphia","franchiseName":"Philadelphia","clubName":"Phillies","active":true},{"springLeague":{"id": 115,"name":"Grapefruit League","link":"/api/v1/league/115″,"abbreviation":"GL"},"allStarStatus":"N","id": 144,"name":"Atlanta Braves","link":"/api/v1/teams/144″,"season": 2023,"venue":{"id": 4705,"name":"Truist Park","link":"/api/v1/venues/4705″,"location":{"address1″:"755 Battery Avenue","city":"Atlanta","state":"Georgia","stateAbbrev":"GA","postalCode":"30339″,"defaultCoordinates":{"latitude": 33.890672,"longitude":-84.467641},"country":"USA"},"timeZone":{"id":"America/New_York","offset":-5,"tz":"EST"},"active":true,"season":"2023″},"springVenue":{"id": 5380,"link":"/api/v1/venues/5380″},"teamCode":"atl","fileCode":"atl","abbreviation":"ATL","teamName":"Braves","locationName":"Atlanta","firstYearOfPlay":"1871″,"league":{"id": 104,"name":"National League","link":"/api/v1/league/104″},"division":{"id": 204,"name":"National League East","link":"/api/v1/divisions/204″},"sport":{"id":1,"link":"/api/v1/sports/1″,"name":"Major League Baseball"},"shortName":"Atlanta","franchiseName":"Atlanta","clubName":"Braves","active":true},{"springLeague":{"id": 114,"name":"Cactus League","link":"/api/v1/league/114″,"abbreviation":"CL"},"allStarStatus":"N","id": 145,"name":"Chicago White Sox","link":"/api/v1/teams/145″,"season": 2023,"venue":{"id":4,"name":"Guaranteed Rate Field","link":"/api/v1/venues/4″,"location":{"address1″:"333 West 35th Street","city":"Chicago","state":"Illinois","stateAbbrev":"IL","postalCode":"60616″,"defaultCoordinates":{"latitude": 41.83,"longitude":-87.634167},"country":"USA","phone":"(312) 674-1000″},"timeZone":{"id":"America/Chicago","offset":-6,"tz":"CST"},"active":true,"season":"2023″},"springVenue":{"id": 3809,"link":"/api/v1/venues/3809″},"teamCode":"cha","fileCode":"cws","abbreviation":"CWS","teamName":"White Sox","locationName":"Chicago","firstYearOfPlay":"1901″,"league":{"id": 103,"name":"American League","link":"/api/v1/league/103″},"division":{"id": 202,"name":"American League Central","link":"/api/v1/divisions/202″},"sport":{"id":1,"link":"/api/v1/sports/1″,"name":"Major League Baseball"},"shortName":"Chi White Sox","franchiseName":"Chicago","clubName":"White Sox","active":true},{"springLeague":{"id": 115,"name":"Grapefruit League","link":"/api/v1/league/115″,"abbreviation":"GL"},"allStarStatus":"N","id": 146,"name":"Miami Marlins","link":"/api/v1/teams/146″,"season": 2023,"venue":{"id": 4169,"name":"loanDepot park","link":"/api/v1/venues/4169″,"location":{"address1″:"501 Marlins Way","city":"Miami","state":"Florida","stateAbbrev":"FL","postalCode":"33125″,"defaultCoordinates":{"latitude": 25.77796236,"longitude":-80.21951795},"country":"USA"},"timeZone":{"id":"America/New_York","offset":-5,"tz":"EST"},"active":true,"season":"2023″},"springVenue":{"id": 2520,"link":"/api/v1/venues/2520″},"teamCode":"mia","fileCode":"mia","abbreviation":"MIA","teamName":"Marlins","locationName":"Miami","firstYearOfPlay":"1991″,"league":{"id": 104,"name":"National League","link":"/api/v1/league/104″},"division":{"id": 204,"name":"National League East","link":"/api/v1/divisions/204″},"sport":{"id":1,"link":"/api/v1/sports/1″,"name":"Major League Baseball"},"shortName":"Miami","franchiseName":"Miami","clubName":"Marlins","active":true},{"springLeague":{"id": 115,"name":"Grapefruit League","link":"/api/v1/league/115″,"abbreviation":"GL"},"allStarStatus":"N","id": 147,"name":"New York Yankees","link":"/api/v1/teams/147″,"season": 2023,"venue":{"id": 3313,"name":"Yankee Stadium","link":"/api/v1/venues/3313″,"location":{"address1″:"One East 161st Street","city":"Bronx","state":"New York","stateAbbrev":"NY","postalCode":"10451″,"defaultCoordinates":{"latitude": 40.82919482,"longitude":-73.9264977},"country":"USA","phone":"(718) 293-4300″},"timeZone":{"id":"America/New_York","offset":-5,"tz":"EST"},"active":true,"season":"2023″},"springVenue":{"id": 2523,"link":"/api/v1/venues/2523″},"teamCode":"nya","fileCode":"nyy","abbreviation":"NYY","teamName":"Yankees","locationName":"Bronx","firstYearOfPlay":"1903″,"league":{"id": 103,"name":"American League","link":"/api/v1/league/103″},"division":{"id": 201,"name":"American League East","link":"/api/v1/divisions/201″},"sport":{"id":1,"link":"/api/v1/sports/1″,"name":"Major League Baseball"},"shortName":"NY Yankees","franchiseName":"New York","clubName":"Yankees","active":true},{"springLeague":{"id": 114,"name":"Cactus League","link":"/api/v1/league/114″,"abbreviation":"CL"},"allStarStatus":"N","id": 158,"name":"Milwaukee Brewers","link":"/api/v1/teams/158″,"season": 2023,"venue":{"id": 32,"name":"American Family Field","link":"/api/v1/venues/32″,"location":{"address1″:"One Brewers Way","city":"Milwaukee","state":"Wisconsin","stateAbbrev":"WI","postalCode":"53214″,"defaultCoordinates":{"latitude": 43.02838,"longitude":-87.97099},"country":"USA","phone":"(414) 902-4400″},"timeZone":{"id":"America/Chicago","offset":-6,"tz":"CST"},"active":true,"season":"2023″},"springVenue":{"id": 2518,"link":"/api/v1/venues/2518″},"teamCode":"mil","fileCode":"mil","abbreviation":"MIL","teamName":"Brewers","locationName":"Milwaukee","firstYearOfPlay":"1968″,"league":{"id": 104,"name":"National League","link":"/api/v1/league/104″},"division":{"id": 205,"name":"National League Central","link":"/api/v1/divisions/205″},"sport":{"id":1,"link":"/api/v1/sports/1″,"name":"Major League Baseball"},"shortName":"Milwaukee","franchiseName":"Milwaukee","clubName":"Brewers","active":true},{"springLeague":{"id": 114,"name":"Cactus League","link":"/api/v1/league/114″,"abbreviation":"CL"},"allStarStatus":"N","id": 108,"name":"Los Angeles Angels","link":"/api/v1/teams/108″,"season": 2023,"venue":{"id":1,"name":"Angel Stadium","link":"/api/v1/venues/1″,"location":{"address1″:"2000 Gene Autry Way","city":"Anaheim","state":"California","stateAbbrev":"CA","postalCode":"92806″,"defaultCoordinates":{"latitude": 33.80019044,"longitude":-117.8823996},"country":"USA","phone":"(714) 940-2000″},"timeZone":{"id":"America/Los_Angeles","offset":-8,"tz":"PST"},"active":true,"season":"2023″},"springVenue":{"id": 2500,"link":"/api/v1/venues/2500″},"teamCode":"ana","fileCode":"ana","abbreviation":"LAA","teamName":"Angels","locationName":"Anaheim","firstYearOfPlay":"1961″,"league":{"id": 103,"name":"American League","link":"/api/v1/league/103″},"division":{"id": 200,"name":"American League West","link":"/api/v1/divisions/200″},"sport":{"id":1,"link":"/api/v1/sports/1″,"name":"Major League Baseball"},"shortName":"LA Angels","franchiseName":"Los Angeles","clubName":"Angels","active":true},{"springLeague":{"id": 114,"name":"Cactus League","link":"/api/v1/league/114″,"abbreviation":"CL"},"allStarStatus":"N","id": 109,"name":"Arizona Diamondbacks","link":"/api/v1/teams/109″,"season": 2023,"venue":{"id": 15,"name":"Chase Field","link":"/api/v1/venues/15″,"location":{"address1″:"401 East Jefferson Street","city":"Phoenix","state":"Arizona","stateAbbrev":"AZ","postalCode":"85004″,"defaultCoordinates":{"latitude": 33.445302,"longitude":-112.066687},"country":"USA","phone":"(602) 462-6500″},"timeZone":{"id":"America/Phoenix","offset":-7,"tz":"MST"},"active":true,"season":"2023″},"springVenue":{"id": 4249,"link":"/api/v1/venues/4249″},"teamCode":"ari","fileCode":"ari","abbreviation":"AZ","teamName":"D-backs","locationName":"Phoenix","firstYearOfPlay":"1996″,"league":{"id": 104,"name":"National League","link":"/api/v1/league/104″},"division":{"id": 203,"name":"National League West","link":"/api/v1/divisions/203″},"sport":{"id":1,"link":"/api/v1/sports/1″,"name":"Major League Baseball"},"shortName":"Arizona","franchiseName":"Arizona","clubName":"Diamondbacks","active":true},{"springLeague":{"id": 115,"name":"Grapefruit League","link":"/api/v1/league/115″,"abbreviation":"GL"},"allStarStatus":"N","id": 110,"name":"Baltimore Orioles","link":"/api/v1/teams/110″,"season": 2023,"venue":{"id":2,"name":"Oriole Park at Camden Yards","link":"/api/v1/venues/2″,"location":{"address1″:"333 West Camden Street","city":"Baltimore","state":"Maryland","stateAbbrev":"MD","postalCode":"21201″,"defaultCoordinates":{"latitude": 39.283787,"longitude":-76.621689},"country":"USA","phone":"(410) 685-9800″},"timeZone":{"id":"America/New_York","offset":-5,"tz":"EST"},"active":true,"season":"2023″},"springVenue":{"id": 2508,"link":"/api/v1/venues/2508″},"teamCode":"bal","fileCode":"bal","abbreviation":"BAL","teamName":"Orioles","locationName":"Baltimore","firstYearOfPlay":"1901″,"league":{"id": 103,"name":"American League","link":"/api/v1/league/103″},"division":{"id": 201,"name":"American League East","link":"/api/v1/divisions/201″},"sport":{"id":1,"link":"/api/v1/sports/1″,"name":"Major League Baseball"},"shortName":"Baltimore","franchiseName":"Baltimore","clubName":"Orioles","active":true},{"springLeague":{"id": 115,"name":"Grapefruit League","link":"/api/v1/league/115″,"abbreviation":"GL"},"allStarStatus":"N","id": 111,"name":"Boston Red Sox","link":"/api/v1/teams/111″,"season": 2023,"venue":{"id":3,"name":"Fenway Park","link":"/api/v1/venues/3″,"location":{"address1″:"4 Yawkey Way","city":"Boston","state":"Massachusetts","stateAbbrev":"MA","postalCode":"2215″,"defaultCoordinates":{"latitude": 42.346456,"longitude":-71.097441},"country":"USA","phone":"(617) 267-9440″},"timeZone":{"id":"America/New_York","offset":-5,"tz":"EST"},"active":true,"season":"2023″},"springVenue":{"id": 4309,"link":"/api/v1/venues/4309″},"teamCode":"bos","fileCode":"bos","abbreviation":"BOS","teamName":"Red Sox","locationName":"Boston","firstYearOfPlay":"1901″,"league":{"id": 103,"name":"American League","link":"/api/v1/league/103″},"division":{"id": 201,"name":"American League East","link":"/api/v1/divisions/201″},"sport":{"id":1,"link":"/api/v1/sports/1″,"name":"Major League Baseball"},"shortName":"Boston","franchiseName":"Boston","clubName":"Red Sox","active":true},{"springLeague":{"id": 114,"name":"Cactus League","link":"/api/v1/league/114″,"abbreviation":"CL"},"allStarStatus":"N","id": 112,"name":"Chicago Cubs","link":"/api/v1/teams/112″,"season": 2023,"venue":{"id": 17,"name":"Wrigley Field","link":"/api/v1/venues/17″,"location":{"address1″:"1060 West Addison","city":"Chicago","state":"Illinois","stateAbbrev":"IL","postalCode":"60613-4397″,"defaultCoordinates":{"latitude": 41.948171,"longitude":-87.655503},"country":"USA","phone":"(773) 404-2827″},"timeZone":{"id":"America/Chicago","offset":-6,"tz":"CST"},"active":true,"season":"2023″},"springVenue":{"id": 4629,"link":"/api/v1/venues/4629″},"teamCode":"chn","fileCode":"chc","abbreviation":"CHC","teamName":"Cubs","locationName":"Chicago","firstYearOfPlay":"1874″,"league":{"id": 104,"name":"National League","link":"/api/v1/league/104″},"division":{"id": 205,"name":"National League Central","link":"/api/v1/divisions/205″},"sport":{"id":1,"link":"/api/v1/sports/1″,"name":"Major League Baseball"},"shortName":"Chi Cubs","franchiseName":"Chicago","clubName":"Cubs","active":true},{"springLeague":{"id": 114,"name":"Cactus League","link":"/api/v1/league/114″,"abbreviation":"CL"},"allStarStatus":"N","id": 113,"name":"Cincinnati Reds","link":"/api/v1/teams/113″,"season": 2023,"venue":{"id": 2602,"name":"Great American Ball Park","link":"/api/v1/venues/2602″,"location":{"address1″:"100 Main Street","city":"Cincinnati","state":"Ohio","stateAbbrev":"OH","postalCode":"45202-4109″,"defaultCoordinates":{"latitude": 39.097389,"longitude":-84.506611},"country":"USA","phone":"(513) 765-7000″},"timeZone":{"id":"America/New_York","offset":-5,"tz":"EST"},"active":true,"season":"2023″},"springVenue":{"id": 3834,"link":"/api/v1/venues/3834″},"teamCode":"cin","fileCode":"cin","abbreviation":"CIN","teamName":"Reds","locationName":"Cincinnati","firstYearOfPlay":"1882″,"league":{"id": 104,"name":"National League","link":"/api/v1/league/104″},"division":{"id": 205,"name":"National League Central","link":"/api/v1/divisions/205″},"sport":{"id":1,"link":"/api/v1/sports/1″,"name":"Major League Baseball"},"shortName":"Cincinnati","franchiseName":"Cincinnati","clubName":"Reds","active":true},{"springLeague":{"id": 114,"name":"Cactus League","link":"/api/v1/league/114″,"abbreviation":"CL"},"allStarStatus":"N","id": 114,"name":"Cleveland Guardians","link":"/api/v1/teams/114″,"season": 2023,"venue":{"id":5,"name":"Progressive Field","link":"/api/v1/venues/5″,"location":{"address1″:"2401 Ontario Street","city":"Cleveland","state":"Ohio","stateAbbrev":"OH","postalCode":"44115″,"defaultCoordinates":{"latitude": 41.495861,"longitude":-81.685255},"country":"USA","phone":"(216) 420-4200″},"timeZone":{"id":"America/New_York","offset":-5,"tz":"EST"},"active":true,"season":"2023″},"springVenue":{"id": 3834,"link":"/api/v1/venues/3834″},"teamCode":"cle","fileCode":"cle","abbreviation":"CLE","teamName":"Guardians","locationName":"Cleveland","firstYearOfPlay":"1901″,"league":{"id": 103,"name":"American League","link":"/api/v1/league/103″},"division":{"id": 202,"name":"American League Central","link":"/api/v1/divisions/202″},"sport":{"id":1,"link":"/api/v1/sports/1″,"name":"Major League Baseball"},"shortName":"Cleveland","franchiseName":"Cleveland","clubName":"Guardians","active":true},{"springLeague":{"id": 114,"name":"Cactus League","link":"/api/v1/league/114″,"abbreviation":"CL"},"allStarStatus":"N","id": 115,"name":"Colorado Rockies","link":"/api/v1/teams/115″,"season": 2023,"venue":{"id": 19,"name":"Coors Field","link":"/api/v1/venues/19″,"location":{"address1″:"2001 Blake Street","city":"Denver","state":"Colorado","stateAbbrev":"CO","postalCode":"80205-2000″,"defaultCoordinates":{"latitude": 39.756042,"longitude":-104.994136},"country":"USA","phone":"(303) 292-0200″},"timeZone":{"id":"America/Denver","offset":-7,"tz":"MST"},"active":true,"season":"2023″},"springVenue":{"id": 4249,"link":"/api/v1/venues/4249″},"teamCode":"col","fileCode":"col","abbreviation":"COL","teamName":"Rockies","locationName":"Denver","firstYearOfPlay":"1992″,"league":{"id": 104,"name":"National League","link":"/api/v1/league/104″},"division":{"id": 203,"name":"National League West","link":"/api/v1/divisions/203″},"sport":{"id":1,"link":"/api/v1/sports/1″,"name":"Major League Baseball"},"shortName":"Colorado","franchiseName":"Colorado","clubName":"Rockies","active":true},{"springLeague":{"id": 115,"name":"Grapefruit League","link":"/api/v1/league/115″,"abbreviation":"GL"},"allStarStatus":"N","id": 116,"name":"Detroit Tigers","link":"/api/v1/teams/116″,"season": 2023,"venue":{"id": 2394,"name":"Comerica Park","link":"/api/v1/venues/2394″,"location":{"address1″:"2100 Woodward Avenue","city":"Detroit","state":"Michigan","stateAbbrev":"MI","postalCode":"48201″,"defaultCoordinates":{"latitude": 42.3391151,"longitude":-83.048695},"country":"USA","phone":"(313) 471-2000″},"timeZone":{"id":"America/Detroit","offset":-5,"tz":"EST"},"active":true,"season":"2023″},"springVenue":{"id": 2511,"link":"/api/v1/venues/2511″},"teamCode":"det","fileCode":"det","abbreviation":"DET","teamName":"Tigers","locationName":"Detroit","firstYearOfPlay":"1901″,"league":{"id": 103,"name":"American League","link":"/api/v1/league/103″},"division":{"id": 202,"name":"American League Central","link":"/api/v1/divisions/202″},"sport":{"id":1,"link":"/api/v1/sports/1″,"name":"Major League Baseball"},"shortName":"Detroit","franchiseName":"Detroit","clubName":"Tigers","active":true},{"springLeague":{"id": 115,"name":"Grapefruit League","link":"/api/v1/league/115″,"abbreviation":"GL"},"allStarStatus":"N","id": 117,"name":"Houston Astros","link":"/api/v1/teams/117″,"season": 2023,"venue":{"id": 2392,"name":"Minute Maid Park","link":"/api/v1/venues/2392″,"location":{"address1″:"501 Crawford Street","city":"Houston","state":"Texas","stateAbbrev":"TX","postalCode":"77002″,"defaultCoordinates":{"latitude": 29.756967,"longitude":-95.355509},"country":"USA","phone":"(713) 259-8000″},"timeZone":{"id":"America/Chicago","offset":-6,"tz":"CST"},"active":true,"season":"2023″},"springVenue":{"id": 5000,"link":"/api/v1/venues/5000″},"teamCode":"hou","fileCode":"hou","abbreviation":"HOU","teamName":"Astros","locationName":"Houston","firstYearOfPlay":"1962″,"league":{"id": 103,"name":"American League","link":"/api/v1/league/103″},"division":{"id": 200,"name":"American League West","link":"/api/v1/divisions/200″},"sport":{"id":1,"link":"/api/v1/sports/1″,"name":"Major League Baseball"},"shortName":"Houston","franchiseName":"Houston","clubName":"Astros","active":true},{"springLeague":{"id": 114,"name":"Cactus League","link":"/api/v1/league/114″,"abbreviation":"CL"},"allStarStatus":"N","id": 118,"name":"Kansas City Royals","link":"/api/v1/teams/118″,"season": 2023,"venue":{"id":7,"name":"Kauffman Stadium","link":"/api/v1/venues/7″,"location":{"address1″:"One Royal Way","city":"Kansas City","state":"Missouri","stateAbbrev":"MO","postalCode":"64129″,"defaultCoordinates":{"latitude": 39.051567,"longitude":-94.480483},"country":"USA","phone":"(816) 921-8000″},"timeZone":{"id":"America/Chicago","offset":-6,"tz":"CST"},"active":true,"season":"2023″},"springVenue":{"id": 2603,"link":"/api/v1/venues/2603″},"teamCode":"kca","fileCode":"kc","abbreviation":"KC","teamName":"Royals","locationName":"Kansas City","firstYearOfPlay":"1968″,"league":{"id": 103,"name":"American League","link":"/api/v1/league/103″},"division":{"id": 202,"name":"American League Central","link":"/api/v1/divisions/202″},"sport":{"id":1,"link":"/api/v1/sports/1″,"name":"Major League Baseball"},"shortName":"Kansas City","franchiseName":"Kansas City","clubName":"Royals","active":true},{"springLeague":{"id": 114,"name":"Cactus League","link":"/api/v1/league/114″,"abbreviation":"CL"},"allStarStatus":"N","id": 119,"name":"Los Angeles Dodgers","link":"/api/v1/teams/119″,"season": 2023,"venue":{"id": 22,"name":"Dodger Stadium","link":"/api/v1/venues/22″,"location":{"address1″:"1000 Vin Scully Avenue","city":"Los Angeles","state":"California","stateAbbrev":"CA","postalCode":"90012-1199″,"defaultCoordinates":{"latitude": 34.07368,"longitude":-118.24053},"country":"USA","phone":"(323) 224-1500″},"timeZone":{"id":"America/Los_Angeles","offset":-8,"tz":"PST"},"active":true,"season":"2023″},"springVenue":{"id": 3809,"link":"/api/v1/venues/3809″},"teamCode":"lan","fileCode":"la","abbreviation":"LAD","teamName":"Dodgers","locationName":"Los Angeles","firstYearOfPlay":"1884″,"league":{"id": 104,"name":"National League","link":"/api/v1/league/104″},"division":{"id": 203,"name":"National League West","link":"/api/v1/divisions/203″},"sport":{"id":1,"link":"/api/v1/sports/1″,"name":"Major League Baseball"},"shortName":"LA Dodgers","franchiseName":"Los Angeles","clubName":"Dodgers","active":true},{"springLeague":{"id": 115,"name":"Grapefruit League","link":"/api/v1/league/115″,"abbreviation":"GL"},"allStarStatus":"N","id": 120,"name":"Washington Nationals","link":"/api/v1/teams/120″,"season": 2023,"venue":{"id": 3309,"name":"Nationals Park","link":"/api/v1/venues/3309″,"location":{"address1″:"1500 South Capitol Street, SE","city":"Washington","state":"District of Columbia","stateAbbrev":"DC","postalCode":"20003-1507″,"defaultCoordinates":{"latitude": 38.872861,"longitude":-77.007501},"country":"USA","phone":"(202) 349-0400″},"timeZone":{"id":"America/New_York","offset":-5,"tz":"EST"},"active":true,"season":"2023″},"springVenue":{"id": 5000,"link":"/api/v1/venues/5000″},"teamCode":"was","fileCode":"was","abbreviation":"WSH","teamName":"Nationals","locationName":"Washington","firstYearOfPlay":"1968″,"league":{"id": 104,"name":"National League","link":"/api/v1/league/104″},"division":{"id": 204,"name":"National League East","link":"/api/v1/divisions/204″},"sport":{"id":1,"link":"/api/v1/sports/1″,"name":"Major League Baseball"},"shortName":"Washington","franchiseName":"Washington","clubName":"Nationals","active":true},{"springLeague":{"id": 115,"name":"Grapefruit League","link":"/api/v1/league/115″,"abbreviation":"GL"},"allStarStatus":"N","id": 121,"name":"New York Mets","link":"/api/v1/teams/121″,"season": 2023,"venue":{"id": 3289,"name":"Citi Field","link":"/api/v1/venues/3289″,"location":{"address1″:"Citi Field","city":"Flushing","state":"New York","stateAbbrev":"NY","postalCode":"11368″,"defaultCoordinates":{"latitude": 40.75753012,"longitude":-73.84559155},"country":"USA","phone":"(718) 507-6387″},"timeZone":{"id":"America/New_York","offset":-5,"tz":"EST"},"active":true,"season":"2023″},"springVenue":{"id": 2856,"link":"/api/v1/venues/2856″},"teamCode":"nyn","fileCode":"nym","abbreviation":"NYM","teamName":"Mets","locationName":"Flushing","firstYearOfPlay":"1962″,"league":{"id": 104,"name":"National League","link":"/api/v1/league/104″},"division":{"id": 204,"name":"National League East","link":"/api/v1/divisions/204″},"sport":{"id":1,"link":"/api/v1/sports/1″,"name":"Major League Baseball"},"shortName":"NY Mets","franchiseName":"New York","clubName":"Mets","active":true}]},"isApp":false,"isCookieNoTrackQueryParam":false,"isPremiumQueryParam":false,"lang":"en","newsletterServiceUrl":"https://us-central1-mlb-webeng-prod-39c3.cloudfunctions.net/email-newsletter","queryString":"","shareOptions":{"shareUrl":"https://www.mlb.com/news/jackson-merrill-raps-3-hits-in-cactus-league-opener","twitterHandle":"mlb"},"storySlug":"jackson-merrill-raps-3-hits-in-cactus-league-opener","topicSlug":"","userAgent":"Mozilla/5.0 (Windows NT 6.1) AppleWebKit/537.36 (KHTML, like Gecko) Chrome/41.0.2228.0 Safari/537.36″,"googleTagManager":"GTM-TGJ9RZ"}}
window.adobeAnalytics = {"reportingSuiteId":"mlbglobal08,mlbcom08″,"linkInternalFilters":"mlb"}
window.globalState = {"tracking_title":"Major League Baseball","lang":"en"}
window.appId = "
/*–>*/
Merrill, 19, continues to impress, collects 3 hits in spring opener
1: 55 AM UTC
PEORIA, Ariz. — Jackson Merrill's first big league camp is off to quite a start.
The Padres' top prospect in the MLB Pipeline rankings will make an out at some point. (Probably.) But in the team's Cactus League opener against Seattle on Friday afternoon, Merrill went 3-for-3 while showing off his knack for using all fields and getting his barrel to the baseball. He showcased a solid glove at shortstop, as well, and he flew around the bases to score from first on Matthew Batten's double, the Padres' first run in a 3-2 loss to the Mariners.
"I think Jackson Merrill's a pretty good player," Padres manager Bob Melvin said with a wry smile. "… He does not look like a teenager, that's for sure."
Merrill's spring is about to get awfully busy, too. With three-fourths of the Padres' starting infield slated to play in the World Baseball Classic next month, the 19-year-old is expected to receive quite a few Cactus League starts.
"I'm excited for that," said Merrill, a first-round Draft choice in 2021. "I don't want the guys to leave. But when they do, and I'm in there a lot of the time, it's going to be really fun for me."
Already, Melvin has committed to starting Merrill at shortstop on Saturday, when the Padres face the White Sox at Camelback Ranch. The skipper has come away impressed with what he's seen early in camp.
"You talk to him, you watch him go about his business, you watch his work ethic — it's everything you want," Melvin said. "This guy's going to be a pretty quick mover, I think, in this organization. You come up there, you get three hits. You get righties, lefties, good at-bats every time. He's a calm thinker. It's impressive."
The lefty-hitting Merrill posted a slash line of .339/.395/.511 last season between Rookie ball and Single-A Lake Elsinore. With the Padres' infield set, he's not a serious candidate for a big league roster spot. But as Melvin noted, many in the organization feel he'll force their hand soon enough.
Not that Merrill concerns himself with that chatter.
"I just try to play in the present," he said. "I don't really think ahead; I just think of where I am right now."
A few other observations from the Padres' Cactus League opener (played, with the pitch timer, in a crisp two hours, 29 minutes):
• Right-hander Nick Martinez struck out four over two scoreless innings as he begins to build toward a starting role for Team USA at the World Baseball Classic.
"We were attacking the zone with all pitches," Martinez said. "It felt good."
Martinez's first outing at the WBC is slated for March 12 against Team Mexico, Melvin revealed. That should give Martinez two more spring outings with the Padres before he joins Team USA.
• Spring Training: the perfect time for a bit of trial and error, right?
Friday marked the first game in which left-hander Ryan Weathers had used a PitchCom device on his belt. The device is designed to allow Weathers to press a button that calls a pitch for his catcher. In that sense, it did its job — though Weathers might need to rethink where he places the device on his belt.
Weathers threw 35 pitches, and he estimated that on about 30 of them, his glove arm nicked the device. That meant …
"As I was letting go of the ball, I could hear in my head the opposite pitch of what I was throwing," Weathers said.
Even pitches that aren't in his arsenal: "One of them, I threw a fastball up, and it said, 'Screwball.' I'm not [Brent] Honeywell, so I don't throw a screwball."
Despite the snafu, Weathers was mostly sharp, striking out three over two innings, though he allowed a trio of unearned runs.
• Those unearned runs scored after Juan Soto dropped a relatively routine fly ball in shallow left field. Sure, it's only one spring blunder in an exhibition game. But it's also a worthwhile reminder that Soto will be making the transition from right to left field this spring, and it might take him some time to acclimate.